Capablanca's Death
Edward Winter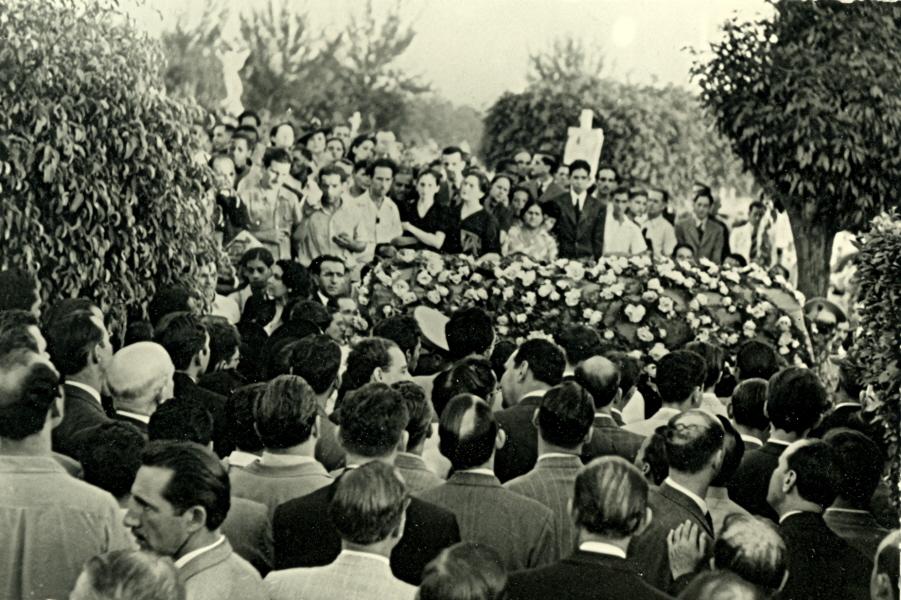 The death of Capablanca was reported in the press on 9 March 1942. For example, the New York Times (page 19) wrote that Capablanca ...
'... died at 5:30 a.m. yesterday in Mount Sinai Hospital, to which he was removed in an ambulance after he had collapsed from a cerebral hemorrhage at 10:30 p.m. Saturday night [7 March] while watching an offhand game at the Manhattan Chess Club, 130 Central Park South. His age was 53.'
From pages 30-31 of the March-April 1942 American Chess Bulletin:
'Capablanca's end came suddenly and, in a sense, dramatically. One feels that, had he had any choice in the matter, he would have selected just such an exit, unannounced, quick and without undue fuss.

It happened one evening at the Manhattan Chess Club, which, next to his haunts among his own people, was as much of a chess home to him as any club anywhere in the world. It was just such another scene as was witnessed personally by the Bulletin's publisher [Helms] at that club shortly before the Cuban's death. During a brief conversation, the while he kept an eye on the game in progress, mention was made of the recent death of Walter Penn Shipley, Capablanca's great admirer and one of his staunchest friends in the United States. Little did Capablanca dream that soon he would be joining that fine, old American in the Great Beyond!

Ten days later, there was a similar scene, typical of the every-day life of the club, and on a Saturday evening. On his way home nearby, it was the Cuban's wont to drop in. A session of "pot-chess" was in progress. Surrounding the two players were the happy kibitzers. At one edge, enjoying himself as much as any, sat Capablanca. He kept his criticisms to himself, but the smiles lighting up his features spoke volumes. And everyone understood.

Casually the former world champion chatted with his friends – Messrs. Atlas, Kenton and Link. Suddenly there came a pause. "Capa" was not himself. He asked aid to remove his coat. High blood pressure was taking its toll. The collapse came and Dr Moschcowitz sent him by ambulance to Mt Sinai Hospital. It had been Lasker's last resting place. There, too, at 5 a.m., Sunday, Capablanca died. Another chess Colossus had gone to join the illustrious company of Morphy, Steinitz and Pillsbury.

Until Wednesday, when the remains were transferred to Havana for burial, Capablanca's body lay in state at Cooke's Funeral House, 117 West 72nd Street, New York. Dr Aurelio F. Concheso, Cuban Ambassador to the United States, came on from Washington for the occasion. Consular circles were represented by Consul General Roberto Hernández, Alfredo Hernández, New York Consul, and F. Primones, counselor of the Consulate. Aquiles Capablanca, a younger brother, who flew on from Havana, and the widow, the former Princess Olga Chagodalf [sic] of Russia, accompanied the body to its last resting place in Cuba.'
A footnote in this source reads:
'In conversation with Sidney F. Kenton, a director, he suggested that a rapid transit championship tournament might be an attractive addition to the club's program. Asked by Mr Kenton if he would participate, the Cuban said that very likely, under satisfactory conditions, he would play.'

Above is part of what is probably the most detailed account of the circumstances of Capablanca's death. Published on page 4 of the Havana newspaper Granma (16 January 1988), it is an article entitled 'How Capablanca Died' by two neurologists, Orlando Hernández Meilán and Manuel Hernández Meilán. They reproduce part of the Mount Sinai Hospital autopsy (reference number 12119), completed at 10:46 on 8 March 1942, four hours 46 minutes after Capablanca's stated time of death (which the article says, did not occur at 05:30, as commonly reported). Cause of death is given as a cerebral haemorrhage provoked by hypertension.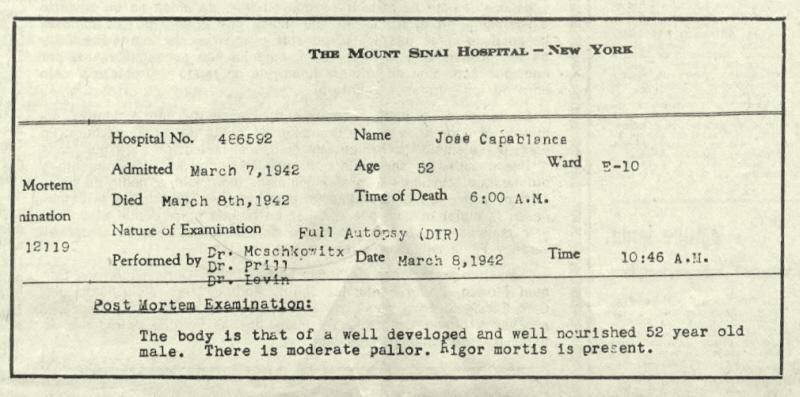 The Cuban newspaper Información (15 March 1942, pages 1 and 8) reported that Capablanca's body had arrived in the port of Havana at three o'clock the previous afternoon. After a ceremony at the Capitolio Nacional attended by leading government figures, the cortège proceeded to the Necrópolis de Colón, where 'thousands of people were waiting'.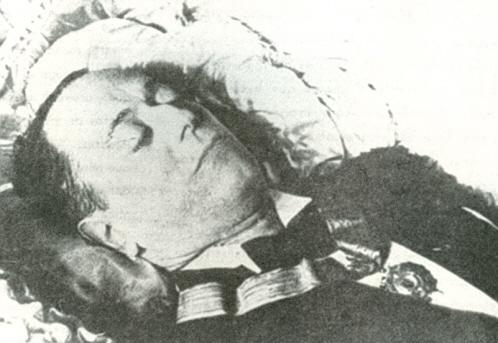 Below are two photographs of Capablanca's grave in the Colón Cemetery, Havana. They were taken by Bernardo Alonso García (who owns the copyright) and sent to us in 1994, with his permission, by Armando Alonso Lorenzo (Prov. Ciego de Avila, Cuba).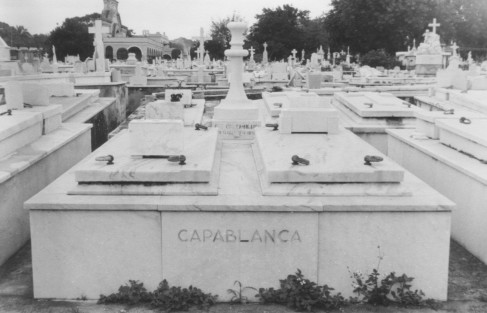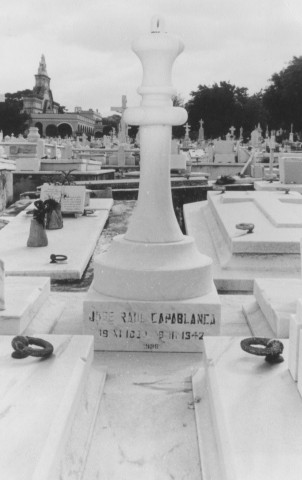 ---
Note: the above article is an illustrated version of the account of Capablanca's death on pages 305-306 of our monograph on the Cuban.


---
C.N. 7537 reproduced from page 265 of volume two of In Memoriam by David DeLucia (Darien, 2012) a letter dated 6 November 1942 from Dr A. Schwartzer to Capablanca's widow: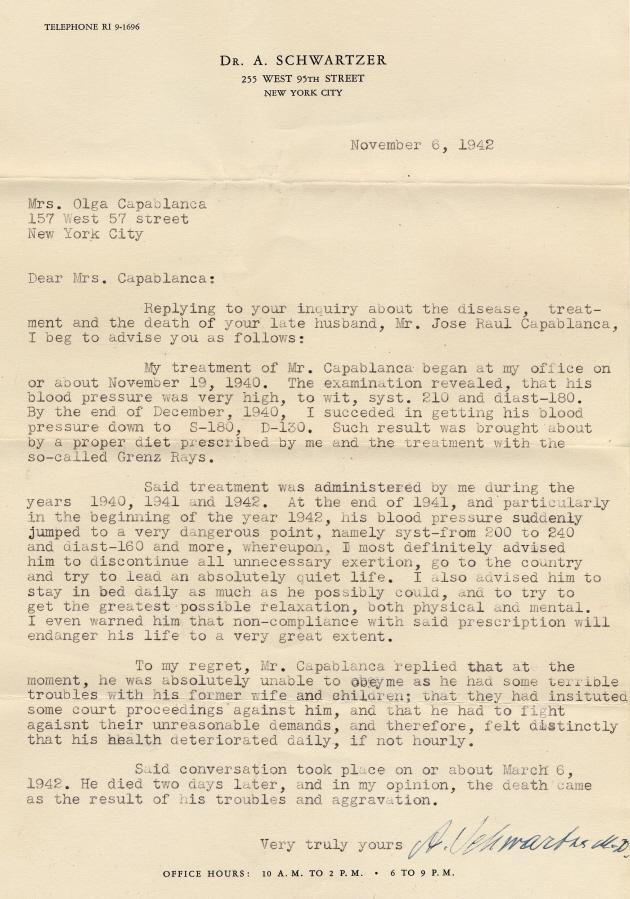 ---
From Ross Jackson (Raumati South, New Zealand):
'The information about Capablanca's high blood pressure in chapters 17 and 18 and Appendix II of Miguel Sánchez's new biography provides an opportunity to reconsider the view that his fatal stroke was caused by stress.

The feature article Capablanca's Death [see above] shows a letter dated 6 November 1942 from Dr A. Schwartzer to Olga Capablanca, and she is quoted as follows in The Genius and the Princess:

"Unfortunately I had no control over things outside our house. Certain aggravations caused to Capa in the last few months of his life precipitated his end. He spoke of this himself, and such was the opinion of his physicians, as both of them have written to me."

"The most menacing was the part dealing with aggravations, for at the time he was confronted with some nasty ones in connection with his divorce. He faced up to some unfair demands and actions."

Page 301 of your book on Capablanca refers to his participation in the 1938 AVRO tournament:

"Olga Capablanca recalls that his high blood pressure nearly cost him his life. 'A doctor screamed at me, "How could you let him play?"'"

Capablanca had a family history of hypertension, and medical understanding of the condition has advanced since the 1940s. Below, for example, is a comment from the American Heart Association:

"Although stress is not a confirmed risk factor for either high blood pressure or heart disease, and has not been proven to cause heart disease, scientists continue to study how stress relates to our health. And while blood pressure may increase temporarily when you're stressed, stress has not been proven to cause chronic high blood pressure."'
(9453)
Two photographs of the funeral procession in Cuba, from opposite pages 64 and 96 of Homenaje a José Raúl Capablanca (Havana, 1943):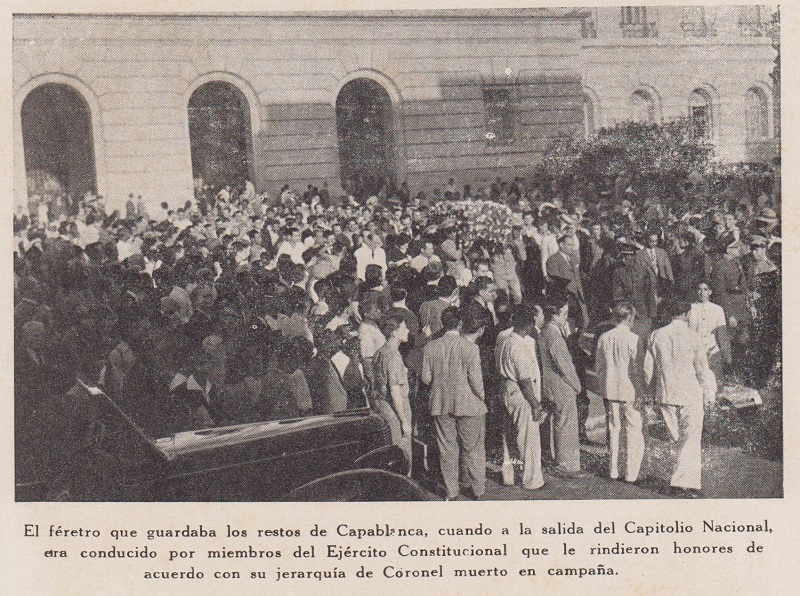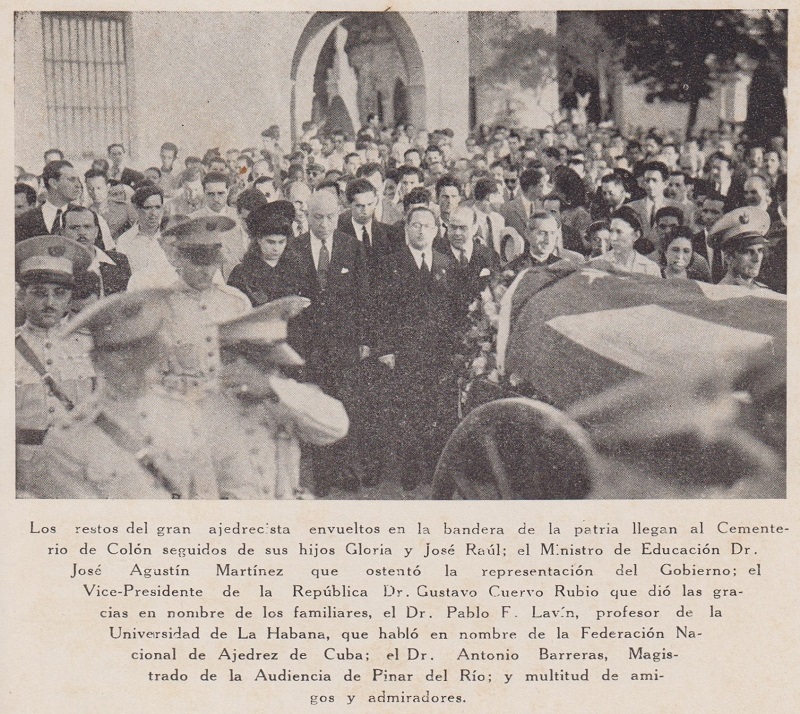 ---
Latest update: 26 December 2019.
To the Chess Notes main page.
To the Archives for other feature articles.
Copyright: Edward Winter. All rights reserved.