Kasparov v Miles, Basle, 1986
Edward Winter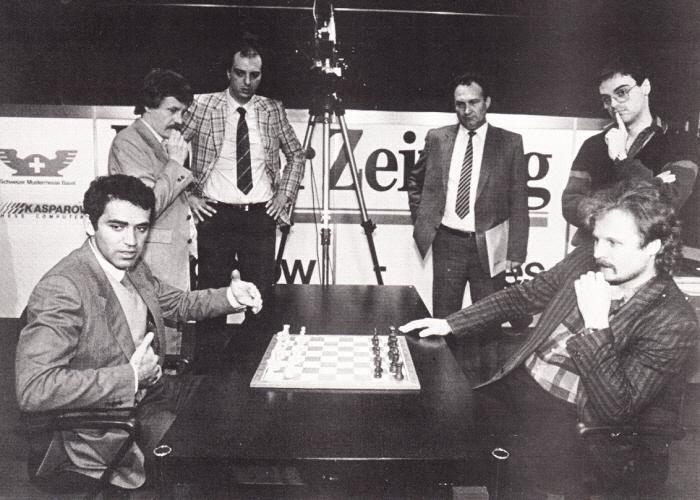 We managed to attend just one game in the recent Basle match between Kasparov and Miles; naturally it was the short draw. Our vantage point gave a good view behind the stage curtain, a stroke of luck since it was there that both players systematically disappeared during the opponent's thinking-time. There was, however, no 'Chess Crisis' as in the 1977-78 Korchnoi-Spassky match. Despite his drubbing, Miles had a new haircut which expressed maturity and experience; gone is the Speelman look-alike hairstyle trimmed once every FIDE cycle and rather tending to resemble an exploding armchair. (A trivial point, it may be thought, but we are convinced that nothing is so revealing as the way a man displays his thatch.)
No sooner had Kasparov scooped up 5½ of the six points than all the grading bores were topping each other's bids as to his estimated 'Elo gain'. The news that it was a friendly match, not to be rated, slowed down their calculating activity only slightly.
Other commitments will, alas, prevent us from dropping in on the London leg of the world championship match, even to take advantage of a concession advertised in the July BCM as 'courtesy WIMPY HAMBURGERS'. Sponsorship has contributed enormously to the grandeur and dignity of our game.
(1203)
---
Just after our issue 28 was published we received from the United States the latest International Rating List, which indicates that the Kasparov-Miles match in Basle has been rated. This fact was also subsequently brought to our attention by several readers, Paul Buswell (Hastings, England) being the first, and we have sought clarification from FIDE. Dr Lim, the General Secretary, is looking into how it was that an unregistered event was rated. We hope to revert to this matter in our next issue.
(1251)
---
From Lim Kok Ann (Lucerne, Switzerland):
'The Kasparov-Miles match, Basle, 1986, was not registered with FIDE because the organizers had ignored the advice of the Swiss Chess Federation to do so. In consequence, the Swiss Chess Federation did not submit the match results for rating. The event was of such importance, however, that the Rating Unit decided to rate the published results, and obtained my consent by telephone. The Swiss Chess Federation has since accepted our explanation and agreed that the event should be registered post hoc, as many events are, and rated.'
(1265)
---
From page 12 of the August 1986 Chess Life: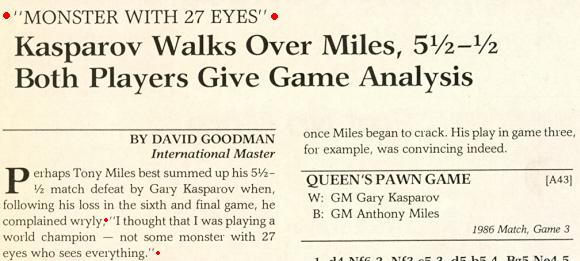 But why 27 eyes or, for that matter, 28,000 eyes (in another version of the Miles quote to be found on web pages)?
The Kasparov v Miles match took place in Basle in May 1986, and we have found Miles' jocular/ocular remark ('100 eyes') in a post-match interview with Heinz Weber on page 3 of the Basler Zeitung, 23 May 1986: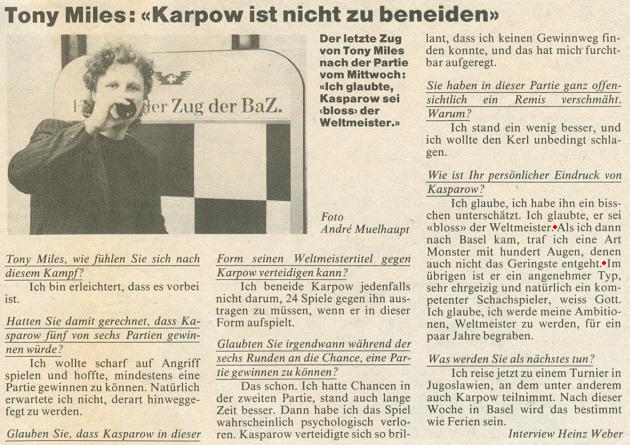 Kasparov gave the figure 100 on page 188 of Child of Change (London, 1987) and page 193 of Unlimited Challenge (Glasgow, 1990).
Earlier, the Basler Zeitung had published interviews with both players, and the full texts are reproduced here: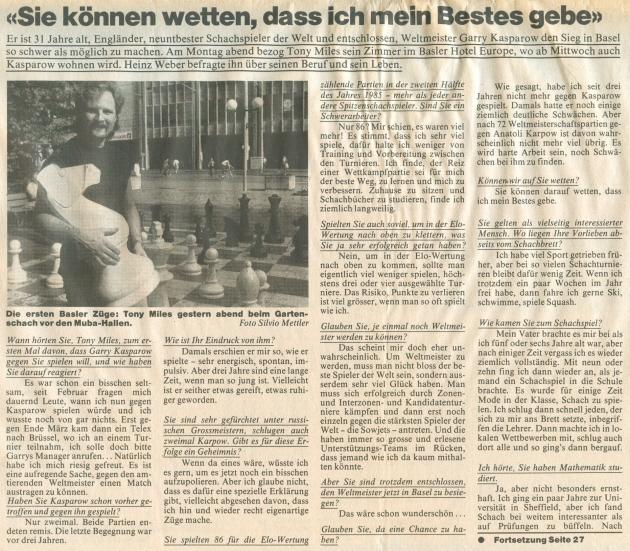 Above: Basler Zeitung, 13 May 1986, pages 25 and 27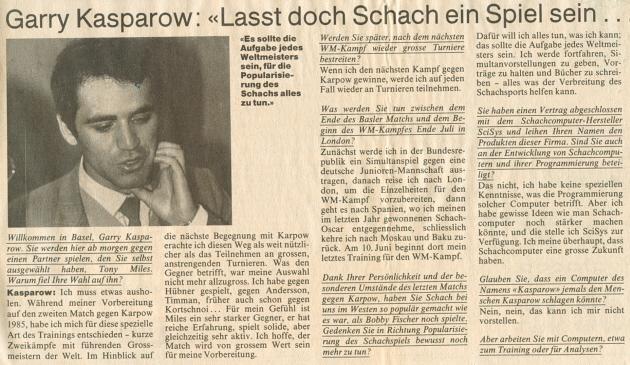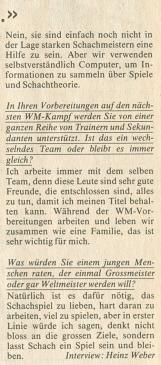 Above: Basler Zeitung, 15 May 1986, page 35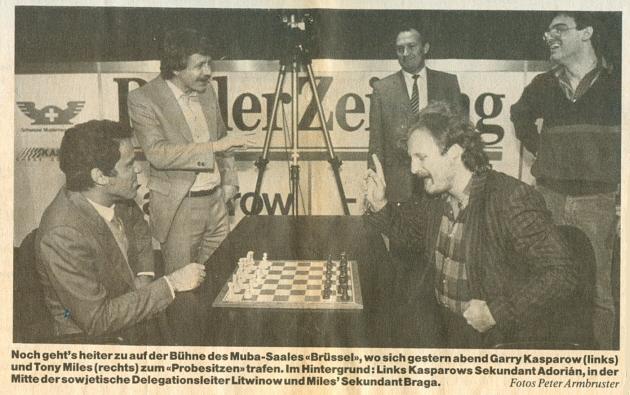 Above: Basler Zeitung, 15 May 1986, page 35.
---
C.N. 10433 quoted from page 175 of Deep Thinking by Garry Kasparov with Mig Greengard (New York, 2017):
'After I beat him heavily in a match in 1986, English GM Tony Miles called me "a monster with a thousand eyes who sees all". I didn't like that nickname any more than I liked being called the "Beast of Baku" (el Ogro de Baku in Spanish, I'm told), but I suppose it was a compliment. My ability to see in seconds what even experienced Grandmasters needed minutes to work out was what first drew me to the attention of Mikhail Botvinnik when I was a child. I wasn't a machine, or an all-seeing monster, but I was about as close as a human could get when it came to chess.'
As noted above, Miles' description of Kasparov on page 3 of the Basler Zeitung, 23 May 1986 was 'eine Arte Monster mit hundert Augen'.
---
Latest update: 3 May 2017.
To the Chess Notes main page.
To the Archives for other feature articles.
Copyright: Edward Winter. All rights reserved.