The Riddle of Swiderski's Suicide
Edward Winter
Rudolf Swiderski
We seek more information from press reports about the suicide of Rudolf Swiderski, at the age of 31, in Leipzig in August 1909.
The final game of Swiderski's life (a draw against G. Enderlein in a tournament in Leipzig on 30 July 1909) was published on pages 301-302 of Deutsches Wochenschach, 29 August 1909. A curiosity reported by the same magazine (14 November 1909 issue, page 402) is that because Swiderski died before the event (a club tournament) finished, he was not regarded as the first prize winner, despite having the highest score.
(2776)
---
A group photograph featuring Swiderski (standing third from the left) at Coburg, 1904: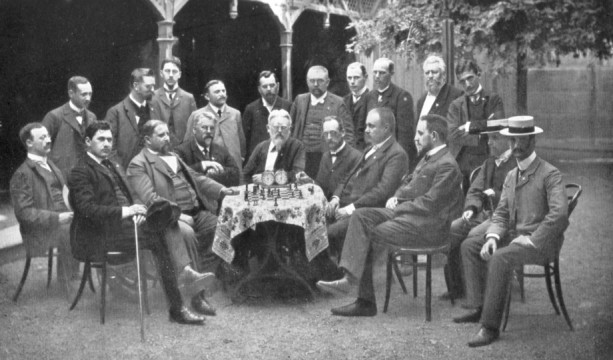 Standing (left to right): C. Schlechter, H. Ranneforth, R. Swiderski, C. Schröder, A. Schott, F. Tausch, W. John, H. Süchting, C. Teller, L. Fleischmann.
Seated: J. Mieses, H. Wolf, H. von Gottschall, P. Schellenberg, R. Gebhardt, J. Berger, G. Marco, O. Bernstein, C. von Bardeleben, H. Caro.
(3570)
---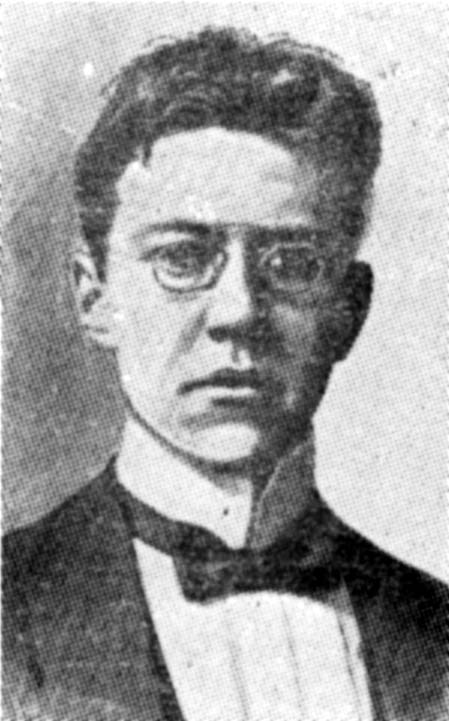 Rudolf Swiderski
Jerry Spinrad (Nashville, TN, USA) sends us the following from the Washington Post, 12 August 1909:

'Famous Chess Player a Suicide.
Special to The Washington Post.
Berlin, Aug. 11. – Swiderski, the celebrated chess player, was found dead today. Apparently he had poisoned and shot himself.'
Of course, such a lamentable affair cannot be left with an 'apparently', but there is in any case a major discrepancy which will, we hope, now prompt a reader in Germany to investigate what appeared in the local press: if Swiderski died on 12 August (as chess reference books affirm), how could the despatch from Berlin be dated 11 August?
The death-date 12 August was given on page 286 of the September 1909 Deutsche Schachzeitung, which reported that Swiderski had killed himself on account of his living circumstances and rather than undergo a necessary operation: 'Am 12. August schied Swiderski aus eigener Entschliessung aus dem Leben. Unzufrieden mit seinen Lebesverhältnissen und von Krankheit heimgesucht, zog er den Tod einer notwendig gewordenen Operation vor.'
Deutsches Wochenschach (15 August 1909, pages 285-286) gave no exact date, merely stating that he had died suddenly in the past week. Deutsche Schachblätter (15 August 1909, page 56) accorded Swiderski's death five lines, reporting that he had died suddenly in his 31st year. Nor was a date specified by L. Bachmann is his obituary of Swiderski on page 194 of Schachjahrbuch für 1909 (Ansbach, 1909). The Wiener Schachzeitung (October 1909, pages 351-352) printed an impossible date of death (2 September), whereas the American Chess Bulletin (October 1909, page 227) put 2 August.
Of the reports currently known to us, only the Washington Post indicated, speculatively, the cause of death (i.e. the unusual combination of poisoning and shooting). Moreover, it stated that on 11 August Swiderski was 'found dead', which does not necessarily mean that he died that day.
(3654)
---
Olimpiu G. Urcan (Singapore) sends a report on page 11 of the Trenton Evening Times of 11 August 1909:
'Noted chess player ends life
Leipsig. Aug. 11. – The body of R. Swiderski, the noted chess player, who committed suicide on August 2, was found today in the room where he had poisoned himself and then fired a bullet into his head. The body was badly decomposed. The date of the suicide was determined by a note left by Swiderski. Swiderski was recently convicted of perjury in a trial that involved him in a disgraceful scandal.'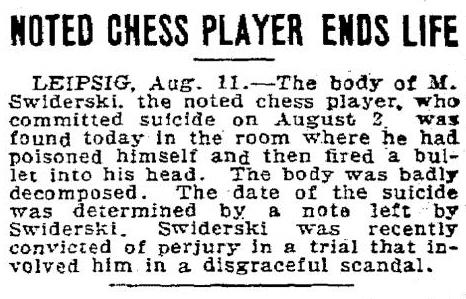 C.N. 3654 asked, unavailingly, if a reader in Germany could investigate what appeared in the local press, and there is now all the more reason to do so.
(4728)
---
Having followed up on a clue provided by Jon D'Souza-Eva (Oxford, England) about publication of news of Swiderski's suicide in the Scottish press, we can quote a report on page 8 of The Scotsman, 12 August 1909:
'Chess Champion's Tragic End
Berlin, 11 August

A telegram from Leipzig reports the suicide of Swiderski, the champion chess player of the world, under dramatic circumstances. The evidence points to Swiderski having taken his life on the 2d inst., but the body was only found today, being in a terrible state of decomposition. The unhappy man had apparently taken poison, and then shot himself with a revolver. Allegations of perjury in connection with a love affair had been made against the deceased, and it is supposed that fear of legal proceedings was the motive which led to the tragedy. – Central News.'
(6629)
---
Olimpiu G. Urcan (Singapore) adds this similar report from page 4 of the Western Times (London) of 12 August 1909: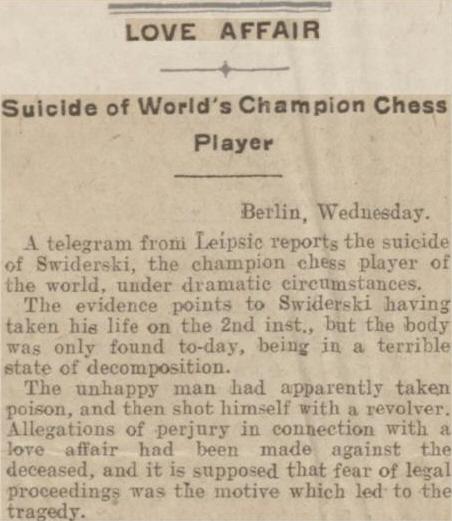 ---
Latest update: 16 April 2012.
To the Chess Notes main page.
To the Archives for other feature articles.
Copyright: Edward Winter. All rights reserved.