Chess in Advertisements

Edward Winter
Smoking used to be a common theme in chess-related advertisements. C.N. 4622 gave, courtesy of Jim Kulbacki (Cheyenne, WY, USA), an item featuring Frank J. Marshall, from the Saturday Evening Post, 28 April 1934:
---
An oddity was shown in C.N. 5218: a promotional photograph, probably from the 1950s, for women's pipe-smoking:
We found the picture on page 182 of The Ultimate Pipe Book by Richard Carleton Hacker (Beverly Hills, 1984).
---
C.N. 7513 showed a selection of chess-related advertisements in an article 'Echecs et publicité' by Jean Buchet on pages 28-30 of L'Echiquier de Paris, March-April 1949:
It was stated that the three olympiad posters (by, respectively, B. Juan Dell'Acqua, Ernesto M. Scotti and Alfredo Franzetti) were the winners of a competition set by the organizing committee, that the Norwich Union poster appeared during the Nottingham, 1936 tournament, that the photograph in the top right-hand corner was published in the Schweizer Illustrierte Zeitung of 10 February 1937 in an advertisement for the painkiller Togal, and that the light-bulb advertisement (Philips) was taken from the Algemeen Dagblad of 16 March 1948.
---
Posters with chess connections are also of interest. In C.N. 7524 Michaël Smorowski (La Garde, France) reported that he had acquired the one below, dated 1972 in St Petersburg. It concerns a production of The Apple Cart by George Bernard Shaw:
---
Finally, C.N. 7533 reproduced an advertisement for Probak blades which we found on page 65 of True Detective Mysteries, December 1931:
The above article originally appeared at ChessBase.com.
---
Ian Rogers (Carlton, NSW, Australia) sends the following (page 26 of Woman's Day, 18 May 1959):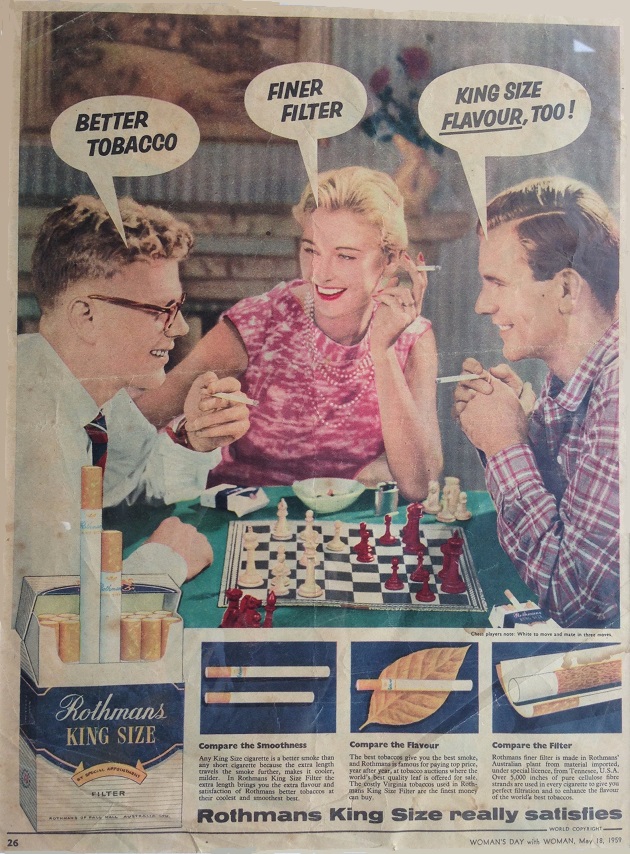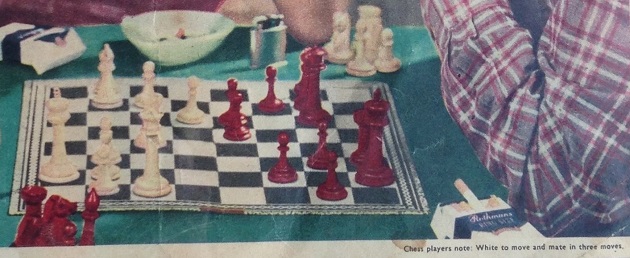 On the left is the former (and future) Australian chess champion John Purdy. The page has been provided courtesy of his widow, Felicity.
(9061)
Information is requested on a chess problem featured in advertising by Fry's Cocoa over a century ago, as mentioned in the correspondence section of Thomas S. Johnston's 'Gems, Old & New' column on page 151 of the February 1911 Chess Amateur:
---
Olimpiu G. Urcan (Singapore) has forwarded some mid-1930s advertisements for Highland Queen whisky:
Illustrated London News, 20 July 1935, page 4
Illustrated London News, 7 December 1935, page 3, and The Sphere, 14 March 1936, page 466
The Sphere, 14 December 1935, page 447
The Sphere, 11 April 1936, page 80.
(10336)
The solutions were discussed by Michael McDowell (Westcliff-on-sea, England) in C.N. 10350.
---
Latest update: 1 March 2017.
To the Chess Notes main page.
To the Archives for other feature articles.
Copyright: Edward Winter. All rights reserved.