---
10812. Capablanca's hand (C.N. 10616)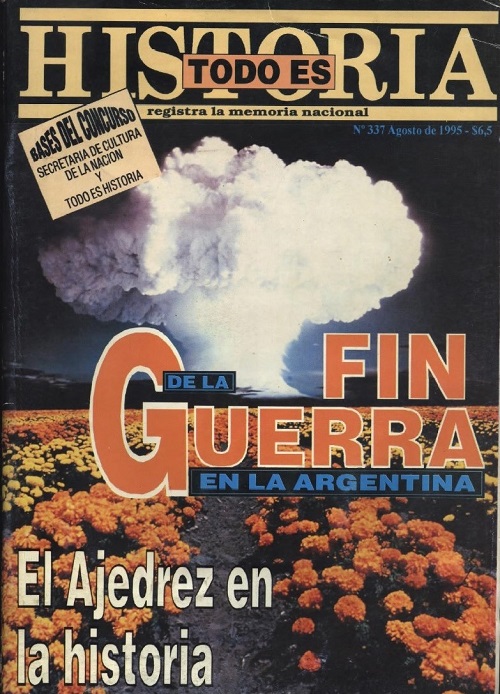 Christian Sánchez (Rosario, Argentina) has provided the article 'El ajedrez en la Argentina' by Gabriel Mario Gómez on pages 68-81 of Todo es Historia, August 1995. The first two pages: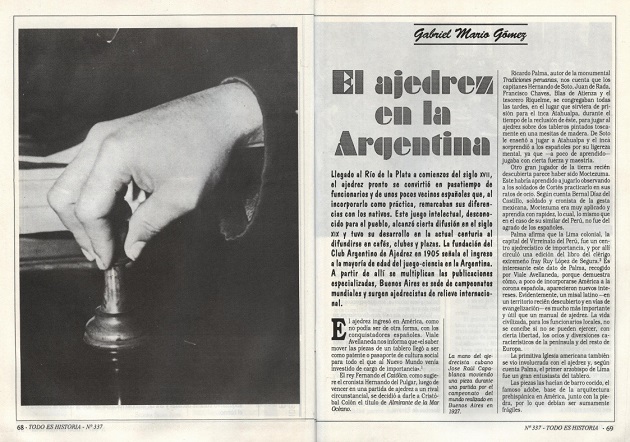 The assertion in the caption on page 69:
'La mano del ajedrecista cubano José Raúl Capablanca moviendo una pieza durante una partida por el campeonato del mundo realizado en Buenos Aires en 1927.'
The photograph was taken prior to the world title match against Alekhine, the first game of which began on 16 September 1927. The date 15 September 1927 was stamped on the reverse of the copy which was shown in C.N. 10616, from Argentina's Archivo General de la Nación, courtesy of the Ministerio del Interior, Obras Públicas y Vivienda (reference AR_AGN_DDF/Consulta_INV: 74493):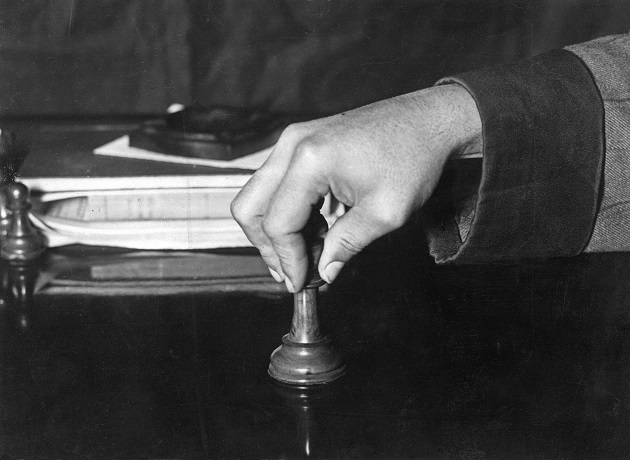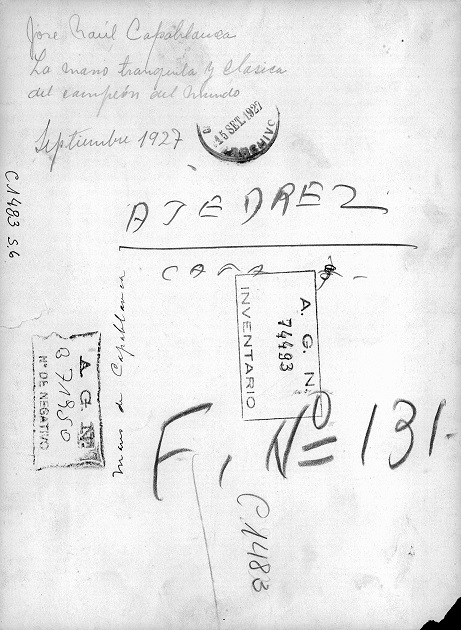 ---
10813. Bierwirth v Roething
From the 23 November 1911 edition of the Brooklyn Daily Eagle, section two, page 3: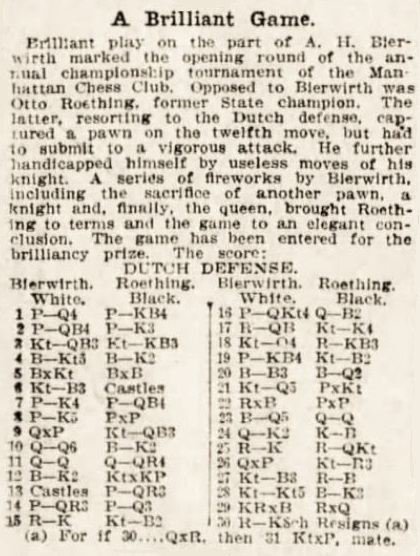 1 d4 f5 2 c4 e6 3 Nc3 Nf6 4 Bg5 Be7 5 Bxf6 Bxf6 6 Nf3 O-O 7 e4 c5 8 e5 cxd4 9 Qxd4 Nc6 10 Qd6 Be7 11 Qd1 Qa5 12 Be2 Nxe5 13 O-O a6 14 a3 d6 15 Re1 Nf7 16 b4 Qc7 17 Rc1 Ne5 18 Nd4 Rf6 19 f4 Nf7 20 Bf3 Bd7 21 Nd5 exd5 22 Rxe7 dxc4 23 Bd5 Qd8 24 Qe2 Kf8 25 Re1 Rb8 26 Qxc4 Nh6 27 Nf3 Rc8
28 Ng5 Be6 29 R7xe6 Rxc4 30 Re8+ Resigns.
---
10814. Photographs from L'Echiquier
Occasional items will show photographs from the Belgian magazine L'Echiquier, and the series begins with portraits of Malpas, Hume, Kipping and Neukomm, published opposite page 862 of the March 1928 issue: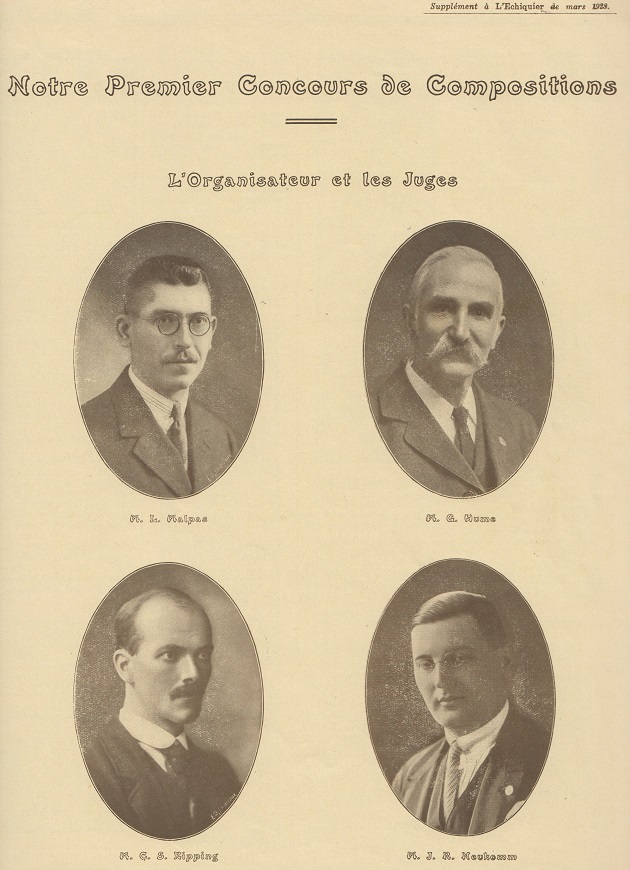 ---
10815. Why contributors contribute
When contributing some items to D.J. Morgan's Quotes and Queries column on page 40 of the February 1957 BCM, W.H. Cozens observed:
'... even busy people should try to co-operate in the sharing of good things.'
Over the decades, such a spirit of generosity on the part of readers has resulted in innumerable contributions to C.N. (including material from Cozens himself, up to his death in 1984). Tim Harding, though, thinks otherwise. In a set of typically peculiar assertions on page 292 of his book British Chess Literature to 1914 (Jefferson, 2018) Harding wrote:
'He [E.W.] also benefits from a network of contributors worldwide, happy to do so [sic] in exchange for having their books promoted or just "seeing their name up in lights".'
---
10816. Mason v Winawer
White to move
As reported on page 386 of Kings, Commoners and Knaves, Ossip Bernstein stated that his favourite player was James Mason, 'not because he was the strongest but because he played my two favourite combinations'. The games were Mason's victories as White against Winawer (Vienna, 1882) and Janowsky (Monte Carlo, 1902).
C.N. 9611 quoted W.H. Watts' praise of the Winawer game in an article about Mason on pages 82-83 of the Chess Budget, 19 December 1925. Mason's own annotations were on pages 210-213 of The Principles of Chess (London, 1894) and were quoted in part by Steinitz on pages 56-57 of the second part of The Modern Chess Instructor (New York, 1895). After 43 Rb7+ in the diagrammed position Steinitz commented: 'One of the grandest two-move winning strokes on record in master play.'
Steinitz also wrote about the game in The Field, 24 June 1882:
'The game between Mason and Winawer belongs, to quote an expression of Herr Falkbeer, to the "finest gems in the jewel box of Caissa". Though at first it dragged itself along as a slow fight for position, the finish was one of extraordinary beauty. On the 34th move Mason won a pawn and then directed his attack on both wings, while his opponent pressed in the centre. On the 40th move Mason initiated one of the finest and [most] original combinations that has ever been produced in practical play.'
Steinitz called 43 Rb7+ 'a wonderfully brilliant stroke'.
---
10817. Addresses
Further to Where Did They Live?, Neil Blackburn (Redditch, England) notes that there are many postal addresses in a chapter entitled 'Die Schachfreunde in Deutschland, Holland u. Oesterreich-Ungarn 1905/1906' on pages 513-579 of the Barmen, 1905 tournament book. Additions to the feature article will be made in due course.
The article currently has no entry for C.H.O'D. Alexander, and Paul Lonergan (London) asks whether a Cheltenham address is available for him.
Many editions of the British Chess Federation Year Book of the 1950s and 60s gave Alexander's address as Brecken Lane, Cheltenham. Towards the end of the 1960s there was a change to 28 King's Road, and later Alexander's address was the Old Bath Lodge, Thirlestaine Road.
The headings to two letters received from Alexander: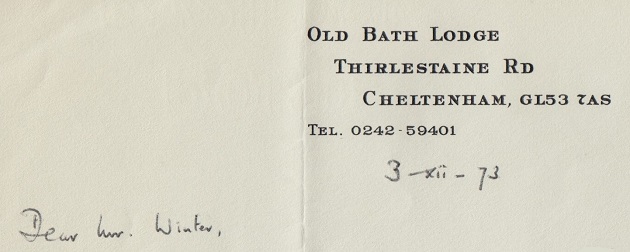 ---
10818. C.S. Kipping (C.N. 10814)
A feature on page 268 of the December 1911 American Chess Bulletin:
---
10819. Staunton v Harrwitz, 1846
John Townsend (Wokingham, England) writes:
'Page 12 of my 2014 book Historical notes on some chess players contained a quote from Löwenthal's chess column in the Era which supported the view that the middle part of the Staunton v Harrwitz match was played in Brighton (the first and last few games having been hosted by the London Chess Club).

It is perhaps worth adding that Saint-Amant had commented on the two venues on page 456 of the 1846 volume of Le Palamède:

"Commencé à Londres, il a été terminé à Brighton."

Staunton described this as a "misstatement" and corrected it in a reply to two correspondents on page 3 of the Illustrated London News of 26 December 1846:

"The match was not 'finished at Brighton'. It was began [sic] and finished in London. A portion of the games were played by mutual consent in the country ..."

He stopped short of saying that the venue "in the country" was Brighton, as was later affirmed by Löwenthal.'
---
10820. Capablanca v Stewart
The column below from page 26 of the Philadelphia Inquirer, 9 November 1924 has been forwarded by Gerard Killoran (Ilkley, England):

1 Nf3 Nf6 2 d4 d5 3 c4 e6 4 Bg5 Nbd7 5 e3 Be7 6 Nbd2 Ne4 7 Bxe7 Qxe7 8 Bd3 Ndf6 9 Rc1 c6 10 O-O O-O 11 Bxe4 Nxe4 12 Nxe4 dxe4 13 Nd2 f5 14 c5 Bd7 15 Nc4 Be8 16 b4 Qg5 17 f4 Qh6 18 Ne5 Kh8 19 Qe1 Rg8 20 h4 Qf6
21 g4 fxg4 22 Kh2 h5 23 Kg3 g6 24 Qc3 Rg7 25 Nc4 Qf5 26 Nd6 Qd5 27 Qc2 a5 28 bxa5
28...Rxa5 29 Nxe8 Ra3 30 Rfe1 g5 31 hxg5 h4+ 32 Kxh4 Rh7+ 33 Kg3 Rh3+ 34 Kg2 Rxa2 35 Nf6 Rxc2+ 36 Rxc2 Qf5 37 Rcc1 Kg7 38 Rb1 Kg6 39 Rh1 e5 40 dxe5 Qe6 41 Rbf1
Here the game was adjourned and adjudicated, as stated below.
John Hilbert (Amherst, NY, USA), who has made a particular study of Capablanca's visits to Philadelphia, informs us that he had the game on file, without publishing it, and that the final position had been given by Shipley in the same newspaper on page 21 of the 26 October 1924 edition:
The Capablanca v Beckman game is known, having been published on, for instance, page 96 of the February 1925 BCM.
---
10821. Paul Morphy Cup
Steve Guardiano (Daytona Beach, FL, USA) owns this trophy: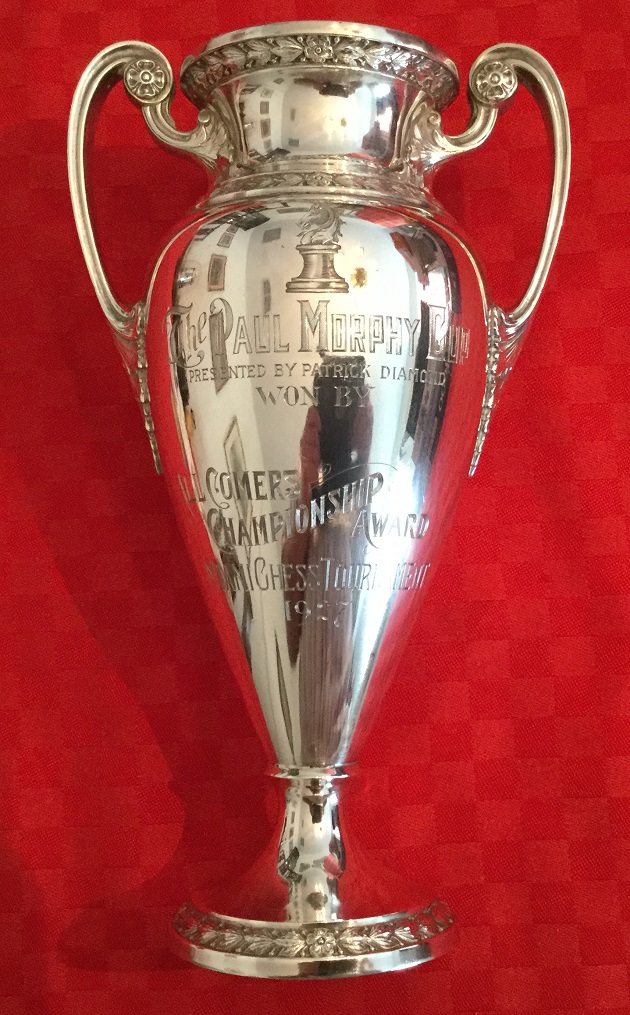 He writes:
'It is engraved with the image of a knight and with this text:

"The Paul Morphy Cup
Presented by Patrick Diamond
won by
[blank]
All Comers Championship Award
Miami Chess Tournament
1927."

'Made by the Gorham Company, it is approximately nine inches (23 cm) tall and bears the Gorham mark, as well as the marks "Sterling" (indicating the silver purity of .925), "A10068" and "1⅜ pint":'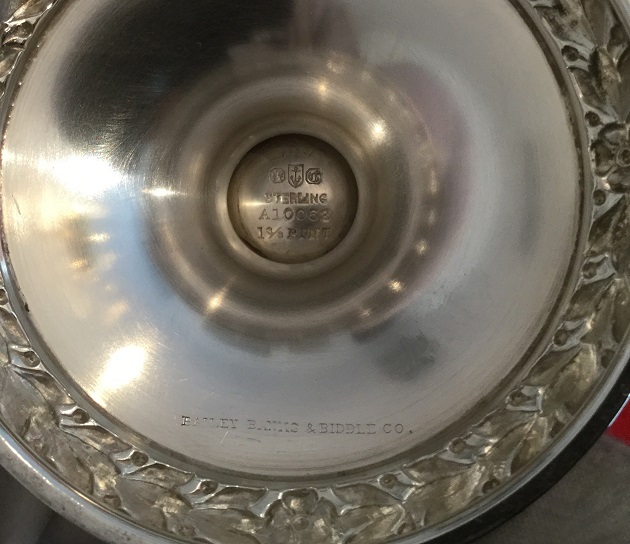 We can add a report from page 16 of the Society section of the Miami News, 27 March 1927: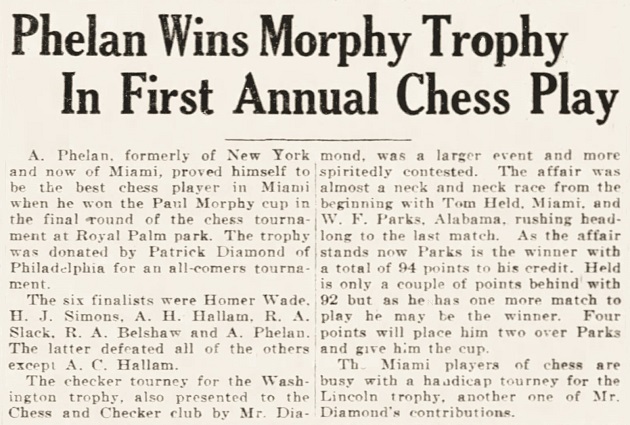 ---
10822. The 1927 world championship match (C.N. 10810)
As a contrast to the editorial reproduced in C.N. 10810, below is an article by C.S. Howell on pages 194-196 of the December 1927 American Chess Bulletin:
---
10823. Hartston quotes
'Chess is not something that drives people mad; chess is something that keeps mad people sane.'
That observation by William Hartston is readily found in chess literature and on the Internet, usually without a source. At best, there may be a reference to Bobby Fischer Goes to War by David Edmonds and John Eidinow (London, 2004). From page 69:

The book's bibliography lists four works by William Hartston, but in none of them do we see the remark. Mr Hartston informs us that he does not currently recall its exact provenance.
A paragraph on page 104 of The Psychology of Chess by W.R. Hartston and P.C. Wason (London, 1983):
There is, furthermore, this description of chess on page 11 of The Kings of Chess by William Hartston (London, 1985):
'A game to subdue the turbulent spirit, or to worry a tranquil mind.'
As mentioned on page 377 of Kings, Commoners and Knaves, that observation was included in The Penguin Dictionary of Twentieth Century Quotations by J.M. and M.J. Cohen (London, 1993 and 1995):
---
10824. Lasker and Steinitz
This photograph, from page 6 of Das interessante Blatt, 26 April 1894, has been noted by Jan Kalendovský (Brno, Czech Republic):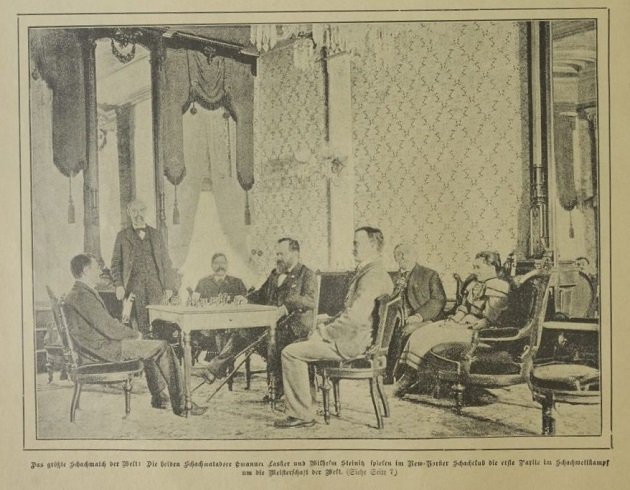 The picture was given, from another source, on page 55 of Emanuel Lasker Denker Weltenbürger Schachweltmeister edited by Richard Forster, Stefan Hansen and Michael Negele (Berlin, 2009).
---
10825. The Rice Gambit (C.N.s 6857, 10781 & 10789)
Concerning the Rice Gambit contest between Lasker and Schlechter, Hans Renette (Bierbeek, Belgium) adds a reference to a five-game match on page 25 of Bohemia, 21 June 1908:

---
10826. Lasker's Manual of Chess
From a review by C.S. Howell of Lasker's Manual of Chess (New York, 1927):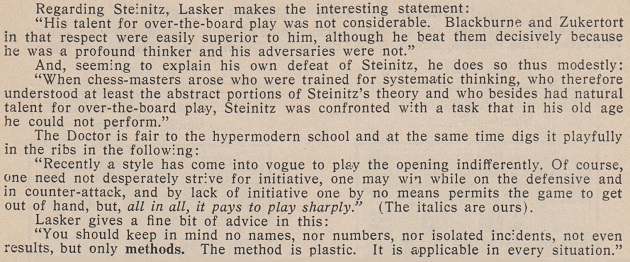 Source: American Chess Bulletin, September-October 1927, pages 158-159.
Lasker's remark 'The attack must lose no time, the defence no space' comes from page 97 of the book and specifically concerned half-open games:
The passage is on pages 86-87 of the London, 1932 edition.
---
10827. Fischer cartoon
A cartoon by Giles on page 6 of the Daily Express, 6 July 1972, in connection with the Spassky v Fischer match:
---
10828. Bent Larsen and 1 b3
From Paul H. Fields (Tampa, FL, USA):
'For McFarland & Company, Inc. I am working on a book about Bent Larsen, and in particular his games with 1 b3 (Larsen's Opening). Most were played between 1968 and 1975, and I am eager to obtain original photographs of him at these events: Monte Carlo, 1968; Lugano Olympiad, 1968; Palma de Mallorca, 1968; Busum, 1969; San Juan, 1969; Palma de Mallorca, 1969; Lugano, 1970; USSR v The Rest of the World match (Belgrade), 1970; Leiden, 1970; Siegen Olympiad, 1970; Vinkovci, 1970; Interzonal, Palma de Mallorca, 1970; European Team Championship, Aarhus, 1971; Palma de Mallorca, 1971; Teesside, 1972; Las Palmas, 1972; Hastings, 1972-73; Manila, 1975.

Games in which Larsen played 1 b3 in other events, including simultaneous exhibitions, are also sought.

I originally thought that Larsen v Benko in the fourth round of the Monte Carlo tournament on 6 April 1968 was the first time he played 1 b3, but in the database of the Dansk Skak Union I found Larsen v Knudsen in round two of the Copenhagen Championship on 15 February 1960. There are, of course, pre-1968 games by Larsen with 1 Nf3 and 2 b3.

As a sidelight, there is the comment by Krishna Prasad (Delhi Diary in the Outlook news magazine, 2 May 2016) that "Bent Larsen, the former world no. 3 in chess, has revealed that he would never wear a tie while playing because 'less blood would get to his brain'." Is it known where Larsen made that remark?

A regular column by Larsen in Kaissiber was titled "Ohne Krawatte".'
We shall gladly forward to Mr Fields any messages from readers who can assist him.
---
10829. Simultaneous displays by Carlos Torre
Few games played by Carlos Torre in simultaneous exhibitions are extant, and it has so far proved impossible to present anything worthwhile from the displays reported on page 7 of the January 1925 American Chess Bulletin:
---
10830. Capablanca in New Orleans
Capablanca's visits to New Orleans have been discussed in C.N.s 6943, 10739, 10744 and 10746. An addition from Gerard Killoran (Ilkley, England) concerns a game against L.L. Labatt and C.F. Buck on page 4 of the Feature Section of the Philadelphia Inquirer, 21 May 1916:
1 d4 e6 2 c4 f5 3 e3 Nf6 4 Bd3 b6 5 Ne2 Bb7 6 O-O Be7 7 Nbc3 O-O 8 a3 Nc6 9 b4 Qe8 10 f3 a6 11 Bb2 Qh5 12 Ng3 Qf7 13 Qd2 Bd6 14 c5 Bxg3 15 hxg3 Ne7 16 Rac1 Rac8 17 Qe2 Nh5 18 Kf2 b5 19 Rh1 g6 20 Rh3 Nd5 21 Rch1 Ndf6 22 Kg1 Rce8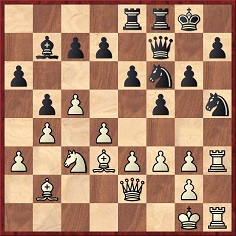 23 Nd1 d6 24 g4 fxg4 25 fxg4 Ng7 26 Nf2 e5 27 g5 Nfh5 28 Ng4 Qe6 29 dxe5 dxc5 30 Nf6+ Nxf6 31 gxf6 Nh5
32 Rxh5 gxh5 33 Bxh7+ Kh8 34 Qxh5 Resigns.
The game is not unknown. It appeared in both editions of the Capablanca games anthology by Rogelio Caparrós (Game 291 and Game 289 respectively), in each case with the wrong year, 1915. The 'exact' date given by Caparrós was 29 April 1915, even though his own book noted elsewhere that on that day Capablanca defeated Edward Lasker in the New York tournament. The Mega Database 2018 also goes astray, with 3 April 1915 as the date of the consultation game against Labatt and Buck.
From page 98 of the May-June 1916 American Chess Bulletin (see C.N. 10744):
'Capablanca's visit to New Orleans during the last week in April was one long to be remembered by the chessplayers in the home of Paul Morphy. Simultaneous consultation, off-hand and quick-fire games were all alike won by the young master, who did not allow so much as a draw. Early in the week he encountered 19 opponents at the New Orleans Chess, Checkers and Whist Club. He won them all. The fourth evening was devoted to the playing of two simultaneous consultation games, the one against Judge L.L. Labatt and C.F. Buck and the other against J.M. Gehl, P.S. [sic] Moise and S.H. Fox. The master won both. His engagement was brought to a close on Saturday evening with an exhibition against 18 opponents, all of whom he defeated in a little over two hours.'
The Cuban's commitments in New Orleans thus ended on Saturday, 29 April 1916, and Eduardo Bauzá Mercére (New York, NY, USA) notes that that was the date of the game against Labatt and Buck. He has provided three cuttings: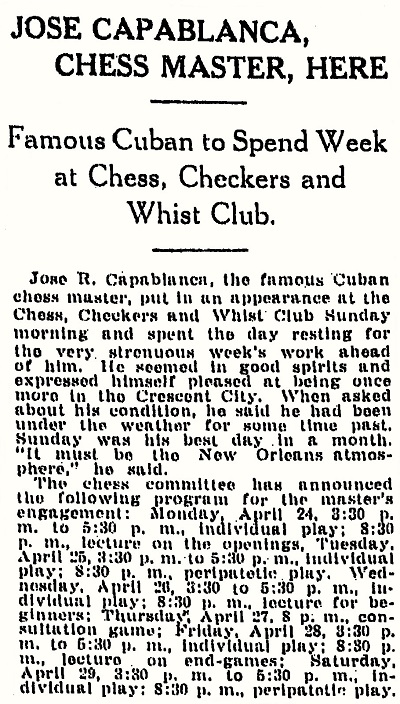 New Orleans Times-Picayune, 24 April 1916, page 3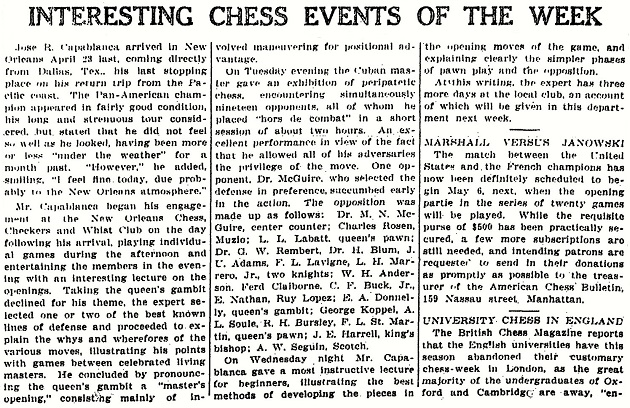 New Orleans Times-Picayune, 30 April 1916, page 11
New Orleans Times-Picayune, 7 May 1916, page 11.
---
10831. Jeremy Gaige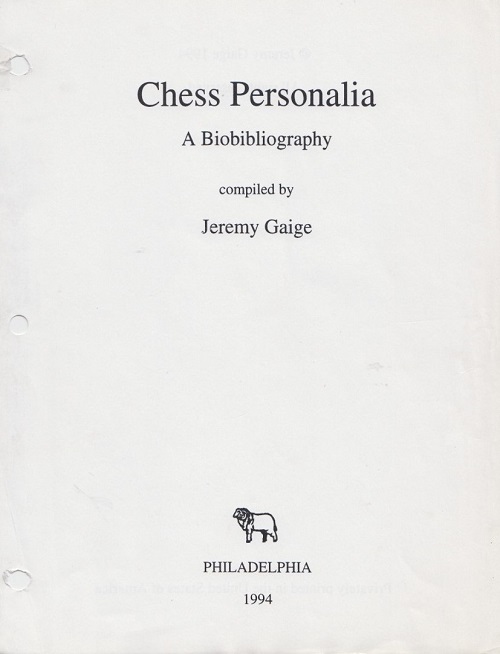 As a matter of common sense, fair play and respect for the late Jeremy Gaige, the privately distributed 1994 edition of Chess Personalia (860 pages), referred to in C.N. many times, should obviously be taken into account by anyone presuming to make corrections or additions to the 1987 McFarland edition.
Our second dip into British Chess Literature to 1914 by Tim Harding (the first was in C.N. 10815) concerns the section 'Some Amendments to Gaige's Chess Personalia' on pages 349-352. The sourceless 'amendments' offered by Harding may correspond to information already presented by Gaige himself in the 1994 edition, and Thomas Long will serve as an example. From Gaige's 1987 book:
Harding, on page 351, gives an 'amendment' (i.e. the addition of Long's year of birth, and his place of birth and death):
However, all that information was included by Gaige 24 years ago:
There are also corrections of Gaige elsewhere in Harding's book, as on page 199:
That matter too was corrected by Gaige 24 years ago: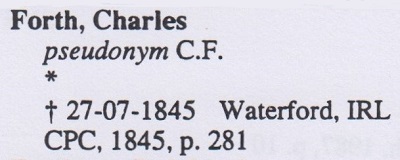 ---
10832. Character
From page 4 of Short v Kasparov The Hi-jacking of The World Chess Championship by William Hartston (London, 1993):
'A great deal has been written, at various times and in a variety of different cultures, about the character-forming aspects of chess, how it demands qualities such as patience and foresight that are useful in everyday life, and how the study and play of chess may help to develop those qualities; yet looking at the history of the game and its leading practitioners, one might be excused for reaching a different conclusion: that chess can bring out the worst in people.'
---
10833. Capablanca v LeRoy Smith
This game, submitted by John Hilbert (Amherst, NY, USA), was played in a 24-board simultaneous display at the Franklin Chess Club:
José Raúl Capablanca – LeRoy Smith
Philadelphia, 29 May 1926
Queen's Gambit Declined
1 d4 d5 2 c4 e6 3 Nf3 Nf6 4 Bg5 Be7 5 e3 Nbd7 6 Bd3 O-O 7 O-O c6 8 Nbd2 h6 9 Bh4 Nh7 10 Bxe7 Qxe7 11 e4 Ng5 12 Nxg5 Qxg5
13 f4 Qg6 14 cxd5 cxd5 15 f5 exf5 16 e5 Qb6 17 Nb3 Nxe5 18 Bxf5 Nc4 19 Bxc8 Raxc8 20 Qh5 Qg6 21 Qxg6 fxg6 22 Rxf8+ Rxf8 23 Re1 Nxb2 24 Re5 Nc4 25 Re7 Rf7 26 Re8+ Kh7 27 Nc5 h5 28 Ne6 Rf5 29 h4 Nd6 30 Re7 Rf6 31 Ng5+ Kg8 32 Rd7 Nf5 33 Rxd5 Rd6 34 Rc5 Kf8 35 Rc7 Nxd4 36 Rxb7 Ra6 37 Rf7+ Kg8 38 Rd7 Ne6 39 Nxe6 Rxe6 40 Rxa7 Re1+ Drawn.
Source: Philadelphia Public Ledger, 13 June 1926.
The exhibition is listed on page 190 of the revised (New York, 1993) edition of The Unknown Capablanca by David Hooper and Dale Brandreth but was absent from the first edition (London, 1975).
---
10834. Rogelio Caparrós
Pages 209-210 of the 13/2007 Quarterly for Chess History had some observations about Rogelio Caparrós' The Games of José Raúl Capablanca (Yorklyn, 1991) from the book's publisher, Dale Brandreth. His main points:
'All but a handful of games which Caparrós used, with the exception of the formal tournament and match games readily available for years, were found by extensive searches by Hooper and myself.'


'Inasmuch as I published the original version of the Caparrós book, we saw no reason to not contribute the additional games for use in what was up to then the most complete collection of Capablanca games extant.'


'That original hardback edition of Capa's games sold out several years ago, at which time the author said he had found another 40 games or so and offered to revise the book. I declined because I was made aware by several readers that there were many sloppy errors in some games. In addition I had become disgruntled by the testy nature of Caparrós to change some of his awkward phraseology and by his apparent indifference to valid criticism.'


'He found that Ken Smith was willing to do a paperback edition "warts and all". Many of the errors were repeated in that edition, though it does benefit from some new games. His lack of understanding in providing proper attribution where possible is lazy ...'
The above account is fully corroborated by our own extensive correspondence at the time with Caparrós and Brandreth.
---
10835. Bent Larsen and ties (C.N. 10828)
Claes Løfgren (Fur, Denmark) provides a translation of part of a contribution by Bent Larsen, entitled 'Thoughts about chess in Buenos Aires, Winter 1990', to his old grammar school's jubilee book:
'"You should not stop while the game is good. It is far too good for that." Quoted from memory from a book by Knud Lundberg. Lundberg is the closest I have come to having an idol. After a national match there was a dinner with mandatory tie, so he ate elsewhere. Generally, I am not very dependent on other people's ideas, but at an impressionable age I had the experience of Lundberg strengthening me in my own opinion of these scraps of cloth, whose apparent purpose is to restrict the flow of blood to an important part of the body. But as I have little confidence in violent revolutions, I have yielded at times. A hotel in Reykjavik on a Saturday night. The Munich Opera, a tournament opening in Puerto Rico. Searching my memory thoroughly, I think of an Interzonal in Mallorca during which I was installed in a hotel where I could have no supper without putting on a tie. I put up with that because during a tournament you should not let yourself become excited by such matters, as it would ruin your concentration. I also wear a tie for certain concerts at the Teatro Colón. Perhaps I should take it off during the interval.'
Source: Aalborg Katedralskole 450 år (Aalborg, 1990), pages 146-147.
Our correspondent adds that Knud Lundberg (1920-2002) played football, handball and basketball for the national Danish teams, and later became a sports journalist and author. Mr Løfgren furthermore points out a photograph of Larsen receiving the Icelandic Order of the Falcon in November 2003.
---
10836. Photographs from L'Echiquier (C.N. 10814)
František Josef Prokop, L'Echiquier, February 1926, opposite page 22
Franz Ferdinand Ludwig Palatz, L'Echiquier, August 1927, opposite page 694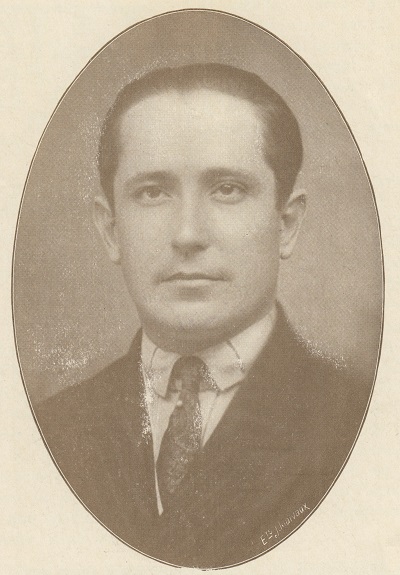 João de Souza Mendes, L'Echiquier, January 1928, opposite page 816.
---
10837. Purdy on Zugzwang
From an article entitled 'Promotion, Zugzwang, Stalemate' by C.J.S. Purdy on pages 81-83 of Chess World, 1 April 1949:
'Zugzwang is the only kind of combination which doesn't start with a threat, check or capture. Indeed, except when the motif of Zugzwang enters, every move by the attacker in every combination must be a threat, check or capture. That is why you can always say exactly when a combination begins and ends.'
See too the feature article Zugzwang.
---