Chess and Ghosts
Edward Winter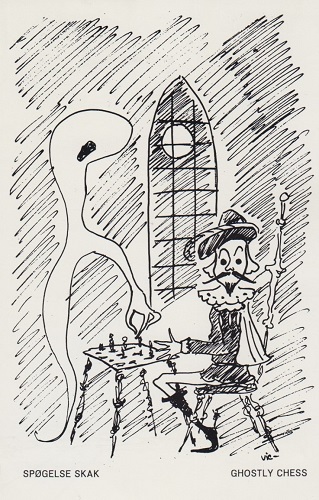 Which chess author wrote a book on ghosts?
The answer is P.W. Sergeant, whose 288-page volume Historic British Ghosts was published by Hutchinson & Co., London in 1936. Chess received a mention on page 262, with the following footnote regarding poltergeists:
'I have only come across one alleged instance, very trivial. A well-known chessmaster among my friends appeared to be troubled at one time with such a visitant. The books on chess in his library would be found lying on the floor, would fall out of the shelves at night; always and only chess books, though there were more books on other subjects. And a photograph of some chess celebrity fell from the wall, with its glass broken. There was no explanation. A selective cat could hardly be blamed. The manifestation did not last for more than a very few weeks.'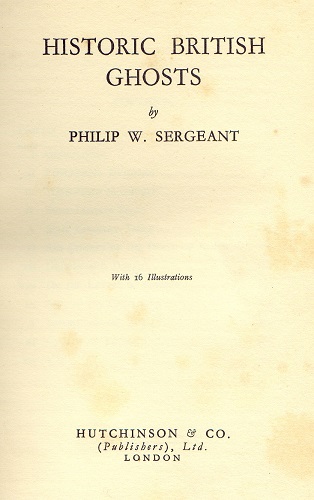 (3162)
Dangerous Game by William Harris, a 70-page paperback in the 'Penguin Readers' series, is available in a pack with two audio cassettes. So well performed is the (integral and leisurely) reading that it may often be forgotten that the text has been simplified for learners of English, being limited to a vocabulary of 1,200 words.
The narrator of the spooky story is a widower whose bedroom is invaded by a poltergeist for what gradually turns into a 'dangerous game'. The sole other character is the narrator's only friend, who visits him once a week for an evening of chess. No moves are given, but in addition to many colour pictures there is a sequence of diagrams throughout the book to depict the following game:
1 e3 e6 2 h4 c5 3 Nc3 Ne7 4 Qh5 Qa5 5 g4 b6 6 Nf3 h6 7 Ng5 g6 8 Nce4 gxh5 9 Nd6+ Kd8 10 Ngxf7+ Kc7 11 Ne8+ Kb7 12 Nd8 mate.
(3229)
CHESS, February 1947, page 145

CHESS, February 1948, page 129.
(7006)
From pages 35-36 of CHESS, December 1942 (where Kersch should read Kersh):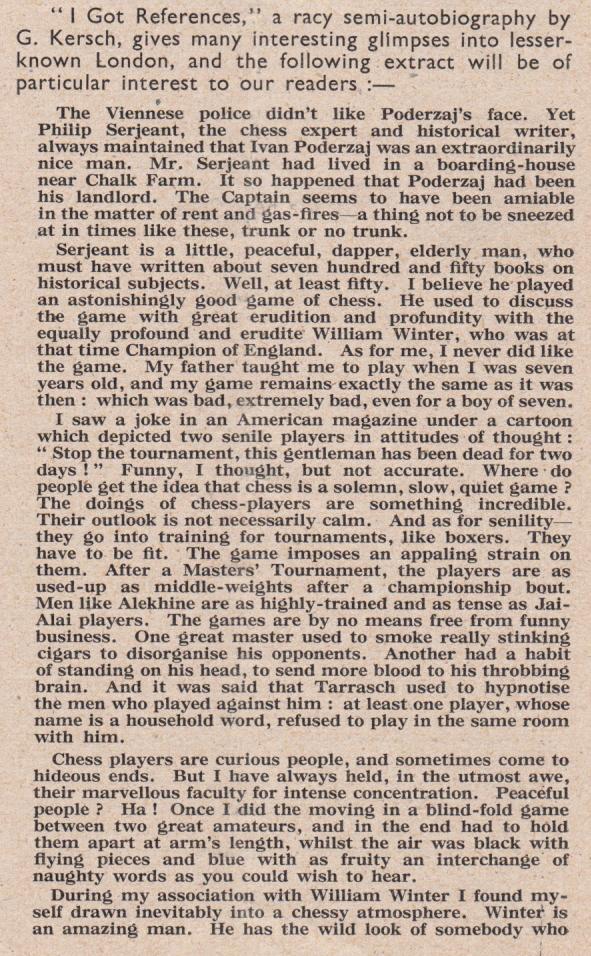 If a reader has I Got References by Gerald Kersh, we shall be grateful to know whether it contains any other chess-related material.

(7477)
From page 209 of Chess Review, July 1959:
---
Latest update: 30 March 2017.
To the Chess Notes main page.
To the Archives for other feature articles.
Copyright: Edward Winter. All rights reserved.