The Immortal Game
Edward Winter
No blunder is too elementary to have been made by chess writers at one time or another. R.F. Green's book Chess (page number varies in different editions) and C.B. Rogers' How to Play Chess (pages 155-156) both gave the 'Immortal Game' as having been won by Kieseritzky against Anderssen.
(2469)
When the above item was included on page 314 of A Chess Omnibus we added in a footnote that another instance was page 45 of Chess and Draughts by Albert Belasco (various editions).
---
Before us lies a modern reprint of R.F. Green's 1889 book Chess, brought out by the Tynron Press, Stenhouse in 1990. Slothful, uninformed duplicators posing as publishers were referred to in C.N. 3586, and here is another instance. The reprint even perpetuates Green's blunder (on page 108) of stating that in the Immortal Game Kieseritzky defeated Anderssen.
(5464)
It has been shown that the 'immortal games' won by Nimzowitsch and Najdorf were not widely published at first. The same applies to the Immortal Game between Anderssen and Kieseritzky, although the loser did give it, with praise for Anderssen, on pages 221-222 of La Régence, July 1851.
Can readers help us to draw up a list of the game's appearances in print in the mid-nineteenth century?
As mentioned in C.N. 2469, some books have inexplicably stated that Kieseritzky won. Below are the three cases referred to on page 314 of A Chess Omnibus:
Chess by R.F. Green (various editions)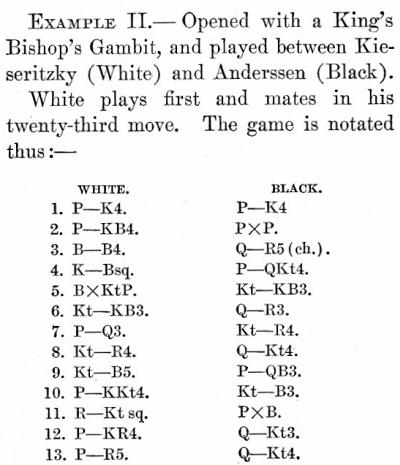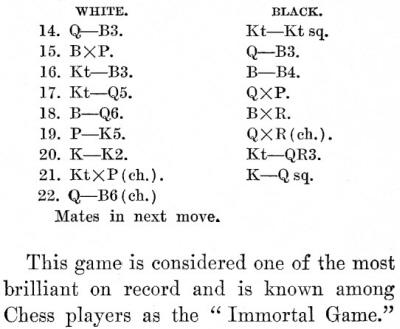 Pages 155-156 of How to Play Chess by Charlotte Boardman Rogers (New York, 1907)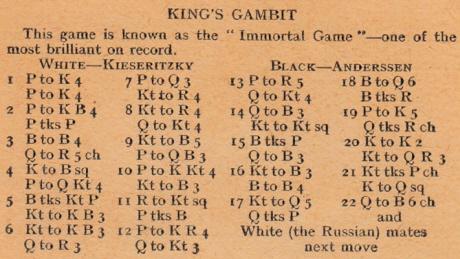 Page 45 of Chess & Draughts by Albert Belasco (various editions).
C.N. 1965 (see page 270 of Kings, Commoners and Knaves) noted that the 1930s book Chess and How to Play It by B. Scriven correctly identified Anderssen as the winner but made a peculiar claim about the occasion of the game:
(8854)
Michael Clapham (Ipswich, England) also mentions that the Immortal Game was published on pages 171-172 of Horć Divanianć by Elijah Williams (London, 1852):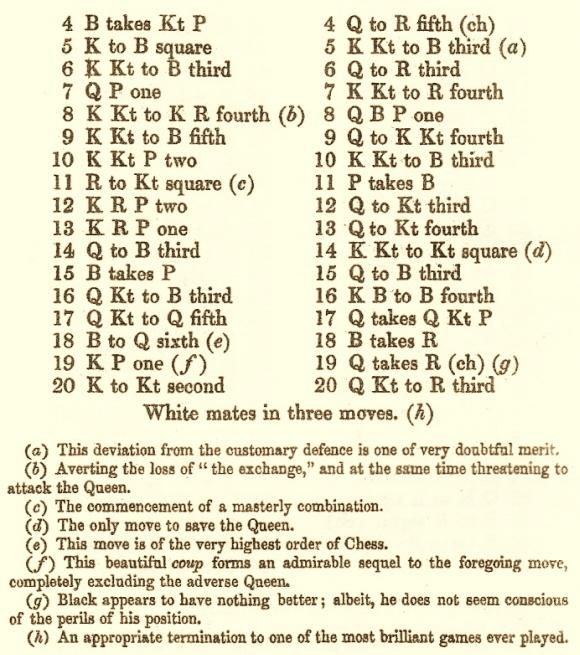 Our correspondent furthermore points out a remark on page 274 of The Game of Chess by George Selkirk (London, 1868):
(8862)
---
Latest update: 9 January 2016.
To the Chess Notes main page.
To the Archives for other feature articles.
Copyright: Edward Winter. All rights reserved.