Ortueta v Sanz
Edward Winter
Capablanca's annotations to this famous game, from pages 39-41 of El Ajedrez Español, February 1936: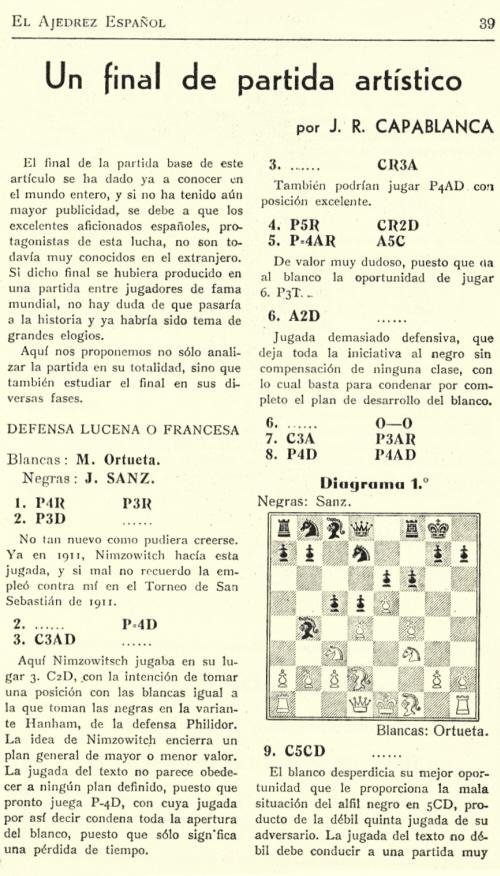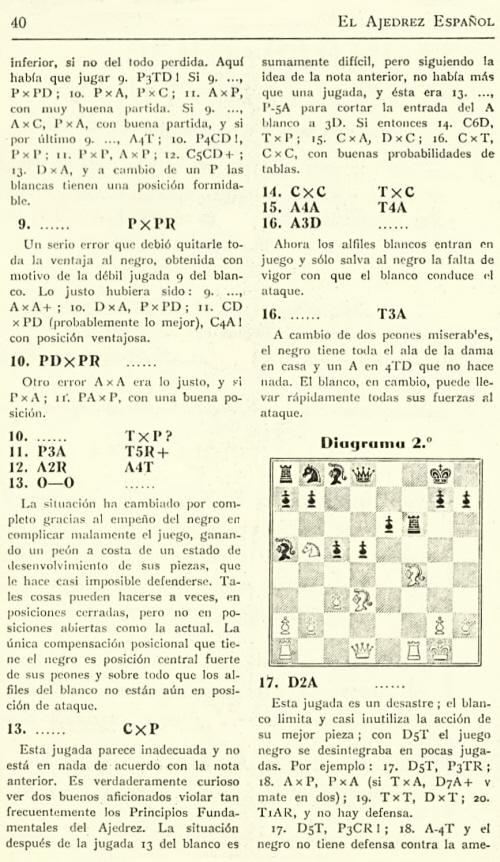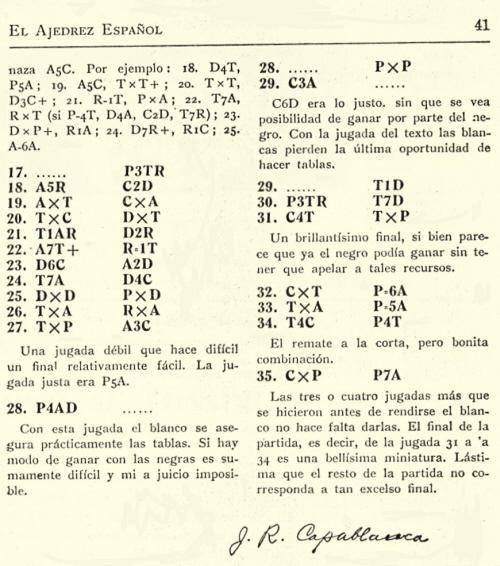 For an English translation, see pages 258-259 of our book on Capablanca.
We wonder whether any details are available concerning Rinck's reaction when shown the finish, according to Tartakower on page 586 of L'Echiquier, 8 August 1934:
'M. Rinck, à qui on avait montré cette finale, déclara tout ce qui suit d'une perfection artistique. "Vous voulez que j'en forge une étude", a-t-il dit: "mais l'étude est déjà toute forgée, où il n'y a rien à ajouter, ni à retrancher."'
Another question concerns the grounds, if any, that Koltanowski had for stating on pages 96-97 of Chessnicdotes II (Coraopolis, 1981) regarding 34...a5:
'This move took Sanz 45 minutes to work out and, according to him, was the most difficult of the whole "finale".'
According to Bruce Hayden (in an article about the game in Chess Review, May 1964, pages 136, 137 and 159) the move on which Black consumed that amount of time was 31...Rxb2:
'After 45 minutes' thought, Sanz had produced a thunderbolt with a rook sacrifice heralding one of the most remarkable endgames in the history of chess.'
For detailed information about the game, see Strangest Coincidence Ever – or Hoax? by Tim Krabbé.
(8153)
Pointing out an article by Joaquim Travesset about this game, Christian Sánchez (Rosario, Argentina) comments:
'The novelty is that the writer's conclusion, that the Ortueta v Sanz game was a hoax, is based on his view of the character of one of the players.'
(8159)
Regarding the famous, mysterious Ortueta v Sanz game, Jan Kalendovský (Brno, Czech Republic) has just found a chess column in the Tagesbote (Brno) of 14 April 1934 which throws a hefty spanner in the works by giving the conclusion of a game said to have been won in Madrid the previous year by the Swedish player Ored Karlin against an unnamed opponent:
(8830)
Zalmen Kornin (Curitiba, Brazil) draws attention to a report on page 46 of ABC, 24 May 1933, which announced a tournament in Madrid with the participation of, inter alios, Karlin, Sanz and Ortueta.
(8847)
The final phase of the Ortueta v Sanz game was published on page 69 of Instructive Positions from Master Chess by Jacques Mieses (London, 1938). His opening and concluding comments:
'The finish is of extraordinary beauty.'

'One would imagine this to be an artistic composition and would hardly credit it with being the conclusion of an actual game.'
---
Latest update: 3 January 2017.
To the Chess Notes main page.
To the Archives for other feature articles.
Copyright: Edward Winter. All rights reserved.