Chess Notes
Edward Winter
When contacting us by e-mail, correspondents are asked to include their name and full postal address and, when providing information, to quote exact book and magazine sources. The word 'chess' needs to appear in the subject-line or in the message itself.
---
10657. Immortal games
The concluding note in the famous Rotlewi v Rubinstein game on page 18 of Rubinstein Gewinnt! by Hans Kmoch (Vienna, 1933):
Many games labelled 'immortal' have been discussed in C.N. over the years, but are there any not yet mentioned here?
This cartoon comes from page 15 of the November 1947 Chess Review:
The caption text is from the accompanying article (pages 14-15) by Fred M. Wren, 'Attempts at Immortality!', in his 'Tales of a Woodpusher' series.
---
10658. Problem by Frank Janet
From page 187 of the 17 April 1916 issue of The Chess News, a small publication edited by George H. Walcott (Boston):
There are three key moves, but we lack the edition(s) of the magazine which may have discussed the solution.
Below are some remarks received from Michael McDowell (Westcliff-on-sea, England):
'1 Nd3 is clearly the intention. The set variation 1...cxb4 2 Qf5 helps to hide the key, which gives two flights, and there is a Grimshaw on d6. The a7 pawn is not strictly necessary, but Janet preferred not to repeat a thematic mate 1...Ba7 2 Nxf4. The cooks can be eliminated by moving the knight from d1 to g8 and adding a black bishop at c8. It is a neat enough problem, and the source is obscure. The WinChloe database contains only one composition from The Chess News, and that is a problem by A.C. White which is quoted in his 1919 Christmas book ACW Flights of fancy in the chess world.'
---
10659. Chess in New Orleans
Dan Scoones (Port Coquitlam, BC, Canada) points out an exterior shot of the New Orleans Chess, Checkers and Whist Club, taken in 1903, and a brief history of the Club.
---
10660. Marshall v Tarrasch photograph
From the plate section of American Chess Masters from Morphy to Fischer by Arthur Bisguier and Andrew Soltis (New York, 1974):
The reference to the world championship is an obvious mistake, but when was the photograph taken? Below are two more recent appearances:
Tarrasch potere della logica by Jakov Nejstadt (Rome, 1996)
A Picture History of Chess by Fred Wilson (New York, 1981), page 74
Apparent confirmation that the occasion was the Nuremberg, 1906 tournament is on page 6 of Chess Review, December 1944, which showed a dated copy inscribed by Marshall:
However, in the Nuremberg tournament (third round, 25 July 1906), Tarrasch had the white pieces against Marshall. (See the tournament book, pages 91-92.)
The photograph had been published the previous year, on page 318 of the October 1905 American Chess Bulletin:
It seems to us that the position is from the 17th and final match-game, won by Tarrasch on 14 October 1905: 1 e4 e5 2 Nf3 Nc6 3 Bb5 Nd4 4 Nxd4 exd4 5 O-O c6 6 Bc4 Ne7 7 Qh5 d5 8 exd5 cxd5 9 Bb5+ Bd7 10 Bxd7+ Qxd7 11 Qe5 d3 12 cxd3 O-O-O 13 a3 Nc6 14 Qh5 g6 15 Qd1 Qf5 16 b4 Qxd3 17 Nc3 Bg7 18 Qa4 Kb8 19 Ra2 Nd4 20 Re1 Rc8 21 h3 Nf5 22 Qd7 Rhd8 23 Qxf7 Rc7 24 Qe6 Re7 25 Qxe7 Nxe7 26 Re3 Qc4 27 Rxe7 Bf8 28 Rxh7 d4 29 Rc2 dxc3 30 Rxc3 Qe2 31 g3 Bd6 32 Kg2 Rf8 33 White resigns.
---
10661. Breyer and sources (C.N. 10563)
A few months ago, C.N. 10563 criticized Jimmy Adams' treatment of sources in Gyula Breyer. The Chess Revolutionary (Alkmaar, 2017). At the Kingpin website Mr Adams has recently made a response; much of it reads like a leg-pull, and here we simply revert to the fundamental issue.
In recent decades, historical chess biographies have seen a major advance in scholarship, with far greater recognition of the need for precise sources. The world's leading publisher in the field is McFarland & Company, Inc., and any list of its best biographical works is likely to include the following:
Stephen Davies: Lipschütz;
Richard Forster: Burn;
Stephen W. Gordon: Reshevsky;
Tim Harding: Blackburne and Eminent Victorian Chess Players;
John S. Hilbert: Hodges (with Peter P. Lahde), Kemeny, Leonard, Pollock (with O.G. Urcan), Shipley;
Martin Frère Hillyer: Frère;
Hans Renette: Bird;
Miguel A. Sánchez: Capablanca;
Leonard M. Skinner and Robert G.P. Verhoeven: Alekhine;
Per Skjoldager and Jørn Erik Nielsen: Nimzowitsch;
Olimpiu G. Urcan: Albin, Finn, Kaufmann (with P.M. Braunwarth), Pollock (with J.S. Hilbert);
Joost van Winsen: Mason;
Aidan Woodger: Fine;
Fabrizio Zavatarelli: Kolisch.
Question: How many of the above authors treat sources in a manner even remotely similar to Jimmy Adams' method?
Answer: None.
---
10662. The parentage of Alexander McDonnell
From John Townsend (Wokingham, England):
'In his will (National Archives, PROB 11/1855/197) Alexander McDonnell (/MacDonnell) identified as his brother Thomas MacDonnell, of Belfast, a barrister. The only Belfast barrister of that name at that time was a graduate of Trinity College, Dublin, who, accordingly, has an entry in Alumni Dublinenses (edited by G.D. Burtchaell and T.U. Sadleir, second edition, Dublin, 1935).

On page 533, the entry for "McDonnell, Thomas" states that he was admitted on 7 November 1808, aged 15, a son of Thomas, a merchant, having been born in the county of Antrim; he obtained his Bachelor of Arts degree in Spring 1813, was called to the Irish Bar in 1816 and later became a QC. The entry concludes by referring the reader to Frederic Boase's Modern English Biography.

Boase (volume II, page 590), in an entry for "McDonnell, Thomas", supplies the additional information that he was born in 1793, was a scholar at Trinity in 1811, became a QC on 1 July 1837 and a crown prosecutor for the county of Down, and died at Eglantine Hill, near Belfast, on 25 September 1878. The above information about the barrister, which I believe will be new to chess historians, builds on earlier research by James O'Fee (including Researching Alexander McDonnell Part 9) and proves that the father of the chessplayer, Alexander, was Thomas McDonnell (/MacDonnell), a merchant, and not Alexander MacDonnell, a Belfast physician.'
---
10663. Defences

From pages 211-212 of the City of London Chess Magazine, October 1874:
'Writers in the press often try their hands at chess technology, but not always with edifying results. A reviewer in the Morning Advertiser lately made allusion to an opening which he called the "Three Pawns' Defence". We presume he intended some reference to the "Compromised Defence" in the Evans Gambit, in which the three pawns are captured. Better, however, is the following, which we cull from the Standard, concerning Marshal MacMahon's tour, i.e. – "This is his defence against the National Assembly, and the strategy is worthy of one brought up to consider how one move is to be checkmated by another." We should like to have a match with Steinitz upon condition that he should checkmate one of our moves. We think the odds would be rather greater than those of mating with the capped pawn.'
Below is page iv of G.H.D. Gossip's Preface to his 1874 work The Chess-Players' Manual, with a reference to 'the three pawns' defence':
On page 285 'Game the Fourth' had the heading 'The Anderssen-Zukertort, or three pawns defence to the Evans Gambit' as an introduction to the moves 1 e4 e5 2 Nf3 Nc6 3 Bc4 Bc5 4 b4 Bxb4 5 c3 Ba5 6 d4 exd4 7 O-O dxc3 8 Qb3 Qf6 9 e5.
---
10664. Immortal games (C.N. 10657)
With regard to the 'Chinese Immortal', won by Liu Wenzhe against J.H. Donner in the Buenos Aires Olympiad, 1978, what was the nature and extent of the attention it received in the Chinese media of the time?
---
10665. Havana, 1952
From the front cover of the April 1952 Chess Review: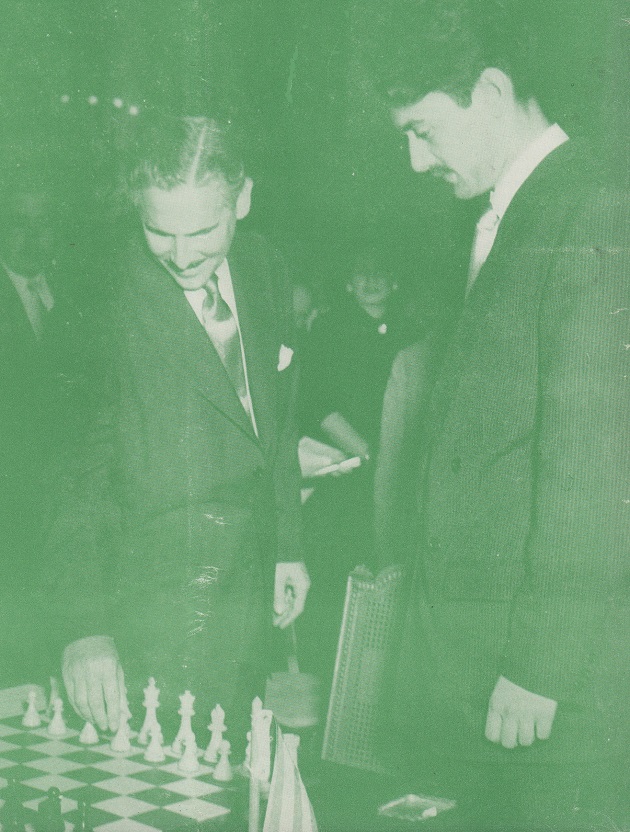 As mentioned on page 98 of the same issue, the Cuban President, Carlos Prío Socarrás, accompanied by Román Torán, was making the first move in the Havana tournament. 'A few days later, the President had been deposed, but, despite two withdrawals and one death, the Chess Congress survived.'
Pages 99-100 reported on the death:
'Still another untoward incident occurred just before the 17th round. Juan Quesada, former Cuban champion, who had given a fair account [of] himself including wins from Prins and Guimard and a draw with Eliskases, suffered a heart attack from which he failed to recover. While this tragedy had a depressing effect on the concluding days of the tournament, it seemed to lend force to the practical adage that there is always time to resign – one's opponent may literally drop dead before the necessity arises of turning down one's king!'
Would Chess Review have written similarly if the victim of the fatal heart attack had been a US master?
See too The Facts about Larry Evans for his flippant, inaccurate remarks on Juan Quesada's death.
---
10666. The Hand
Sean Robinson (Tacoma, WA, USA) notes a remark by Spassky in an interview on page 23 of the Autumn 1998 Kingpin:
'Smyslov is a chess player with a fantastic intuition. I call him "Hand" because his hand knows exactly on which square to put which piece at a given moment; actually, he does not have to calculate anything.'
Our correspondent asks whether earlier occurrences of the term are known.
He adds this slightly later citation from page 155 of The Unknown Bobby Fischer by John Donaldson and Eric Tangborn (Seattle, 1999):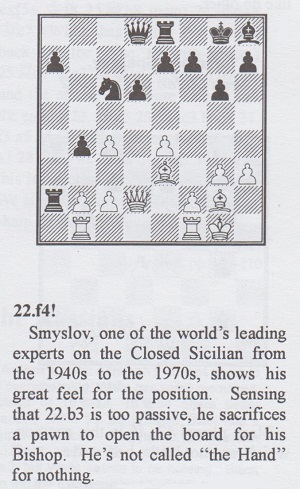 For observations on the physical appearance of Smyslov's hands see page 57 of Chess Duels by Yasser Seirawan (London, 2010).
---
10667. Dufresne game
This game 'won by Dufresne' comes from pages 74-75 of Social Chess by James Mason (London, 1900) and is submitted by Eduardo Bauzá Mercére (New York, NY, USA):

1 e4 e5 2 Nf3 Nc6 3 Bc4 Bc5 4 b4 Bxb4 5 c3 Ba5 6 d4 exd4 7 O-O dxc3 8 Qb3 Qf6 9 e5 Qg6 10 Nxc3 Nge7 11 Ba3 Rb8 12 Nd5 Nxd5 13 Bxd5 b5 14 e6 fxe6 15 Bxc6 dxc6 16 Ne5 Qe4 17 Qg3 g6 18 Qg5 b4 19 Qf6 Rf8 20 Qg7 bxa3 21 Rad1 Rb5 22 Rd8+ Kxd8 23 Qxf8 mate.
Mr Bauzá Mercére is seeking particulars about the game. When reverting to the matter with whatever can be assembled, we shall also discuss an analytical point arising at move 19. In the meantime, below is the game's appearance on page 7 of the 1 May 1893 edition of the London Evening Standard:

---
10668. Chess masters on film
Two further contributions from Olimpiu G. Urcan (Singapore) regarding Chess Masters on Film: an informal Bogoljubow v Euwe game in 1928 and the opening of the 1956 Candidates' tournament.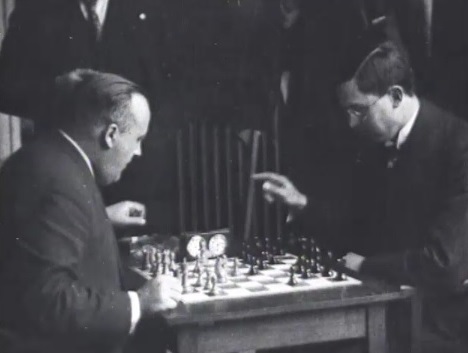 ---
10669. Smyslov
Andrey Terekhov (Singapore) forwards this picture of Vassily Smyslov: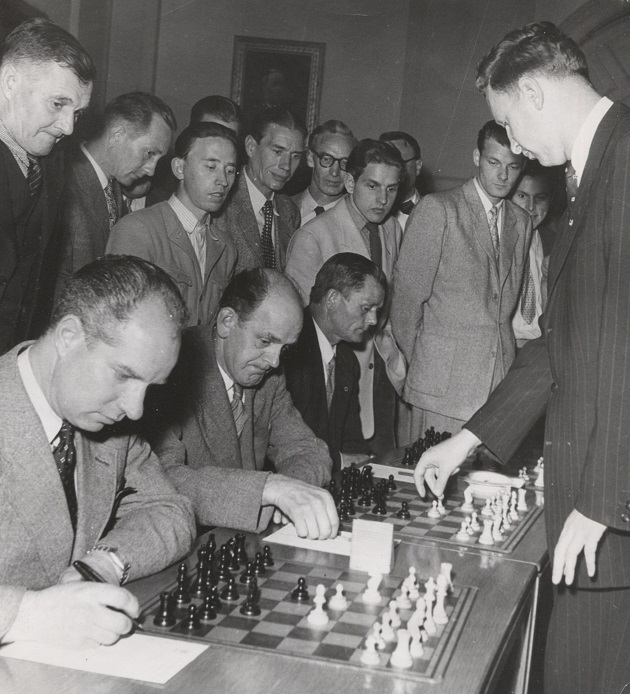 Our correspondent reports that the reverse of the (undated) photograph states that it was taken in Sweden.
---
10670. Dufresne game (C.N. 10667)
Concerning the Evans Gambit game won by Dufresne, Alan Smith (Stockport, England) adds that annotations were published on pages 161-162 of the May 1881 BCM: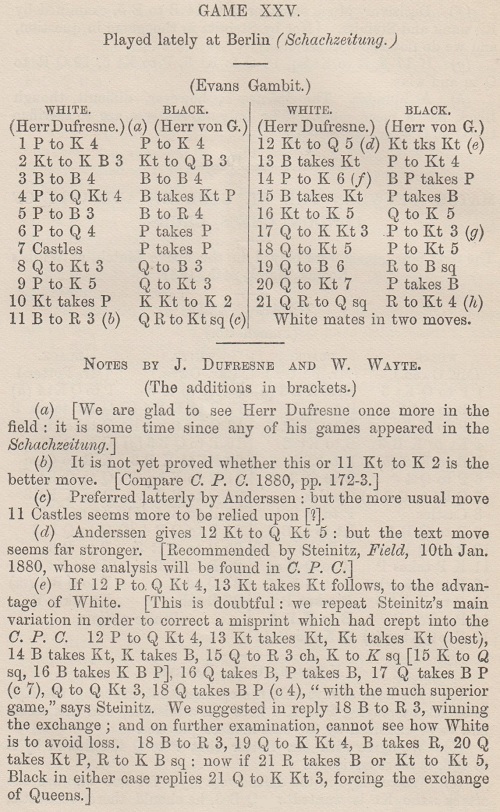 From page 88 of the March 1881 Deutsche Schachzeitung:
The analytical point referred to in C.N. 10667 will be discussed in a forthcoming item.
---
10671. The Evans Gambit (C.N.s 10667 & 10670)
White to move
Play continued 21 Nf7 e5 22 Nh6+ Kh8 23 Rd8 Kg7 24 Rxf8 Kxf8 25 Qf6+ Ke8 26 Ng8 Resigns (Siegbert Tarrasch v Christian Kelz, Nuremberg, 1889 or 1890). The previous moves were 1 e4 e5 2 Nf3 Nc6 3 Bc4 Bc5 4 b4 Bxb4 5 c3 Ba5 6 d4 exd4 7 O-O dxc3 8 Qb3 Qf6 9 e5 Qg6 10 Nxc3 Nge7 11 Ba3 Rb8 12 Nd5 Nxd5 13 Bxd5 b5 14 e6 fxe6 15 Bxc6 dxc6 16 Ne5 Qe4 17 Qg3 g6 18 Qg5 b4 19 Rad1 O-O 20 Bb2 Rb5.
Tarrasch annotated the game in the 'Nürnberg 1889-1890' section of Dreihundert Schachpartien (various editions):
Up to move 18 the game followed the Dufresne one given in C.N.s 10667 and 10670. A note by Tarrasch on the possibility of 22 Qf6 (referred to later in the present item) would have been welcome.

A later postal game between P. Sandford and W. Brunton also had 21 Nf7. It was published on page 98 of the February 1895 BCM: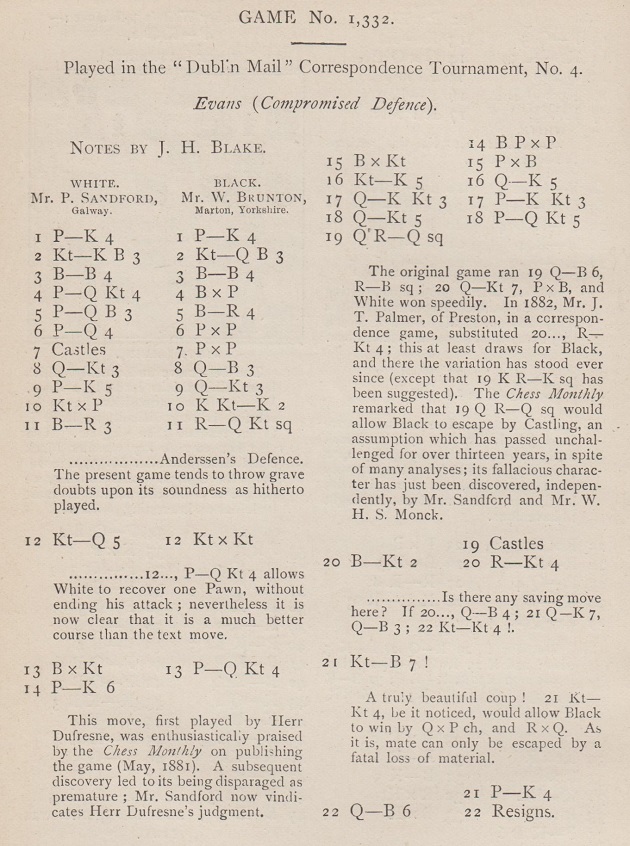 The following month (page 130) had letters from D.B. Kitchen and J.H. Blake:
Sandford's victory was also referred to in his obituary on page 383 of the September 1903 BCM: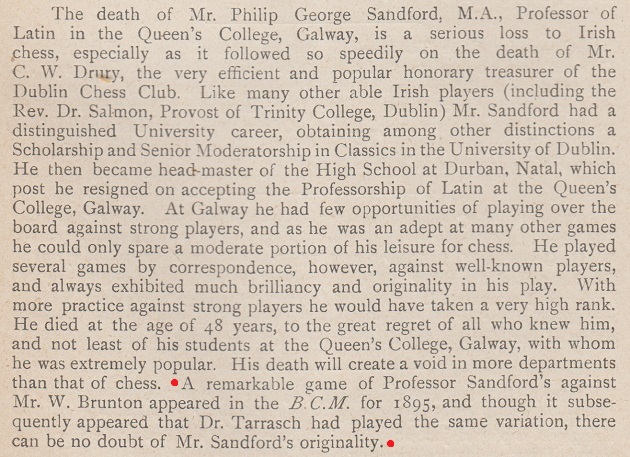 Page 157 of Correspondence Chess in Britain and Ireland, 1824-1987 by Tim Harding (Jefferson, 2011) had this introduction to the Sandford v Brunton game:
'From the [Dublin Evening] Mail of 27 December 1894 and often republished elsewhere; Brunton's name is given incorrectly in some sources as "Brancon". Only the finish, which improves on Tarrasch, is original.'
How many sources have given 'Brancon' is unclear, but one is shown here (in a reference which also has the incorrect date 1898):
Source: Play The Evans Gambit by T. Harding and B. Cafferty (London, 1997).
The above-mentioned correspondence chess book (which, incidentally, dated the Romaschkevich-Behting game 1894, and not 1895) noted that Sandford v Brunton was published in the Dublin Evening Mail, 27 December 1894, and we give it below (from page 4 of the newspaper):

Regarding the Tarrasch v Kelz game, see also pages 308-310 of Tarrasch's Best Games of Chess by Fred Reinfeld (London, 1947). There was no mention of Sandford v Brunton or 22 Qf6, but Reinfeld's introduction is worth quoting:
'The Evans Gambit has unquestionably had more analysis lavished on it than any other opening, and the investment has been repaid by the production of more beautiful games than have resulted from any other opening.'
---
10672. Chess logos
C.N. 7659 referred to Clement Freud's eye-witness report on the 1972 Spassky v Fischer match published in the Financial Times of 8 July 1972 and reproduced on pages 161-166 of the posthumous anthology A feast of Freud (London, 2009). From page 165:
'On the stage behind the chess table there was a drape on which was painted a black knight, a few squares from a chess board, the legend gens una sumus ... the whole decorated by a drawing of what appeared to be a huge devious sardine-can opener.'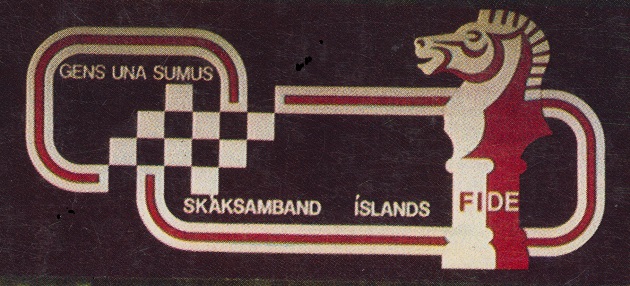 Wanted: nominations for the finest logos designed for any chess match or tournament.
---
10673. Vladimir Nabokov and 'Wilhelm Edmundson'
John Roycroft (London) quotes from Now Remember by Vladimir Nabokov (page 51 of the 1996 Penguin edition), which consists of extracts from Nabokov's autobiography Speak, Memory in its 1967 Weidenfeld & Nicolson edition:
'You may have seen the face of the world-famous grandmaster Wilhelm Edmundson when, during a simultaneous display in a Minsk café, he lost his rook, by an absurd oversight, to the total amateur and pediatrician, Dr Schach, who eventually won.'
---
10674. Jaffe and Alekhine
Ross Jackson (Raumati South, New Zealand) asks what is known about the claim on page 190 of The World of Chess by A. Saidy and N. Lessing (New York, 1974) that during the 1927 world championship match Jaffe sent Alekhine a cable which 'contained an analysis of a variation of the Queen's Gambit with a new move suggested by Jaffe, which Alekhine is thought to have adopted'.
---
10675. Harrie Grondijs (C.N. 10439)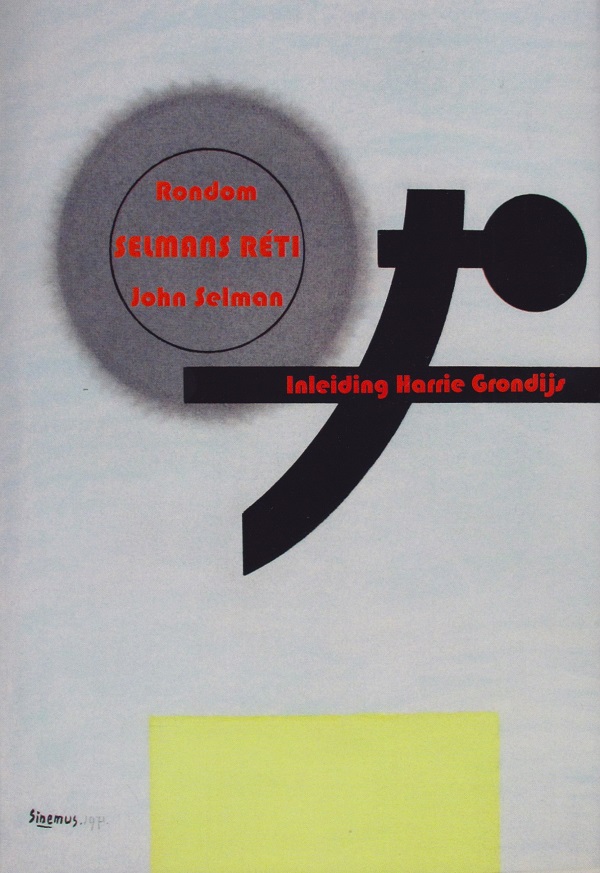 The latest book by Harrie Grondijs, as beautifully produced as ever, is Rondom Selmans Réti (Maastricht, 2017), a 268-page hardback in a print-run of 37 signed, numbered copies. From the dust-jacket: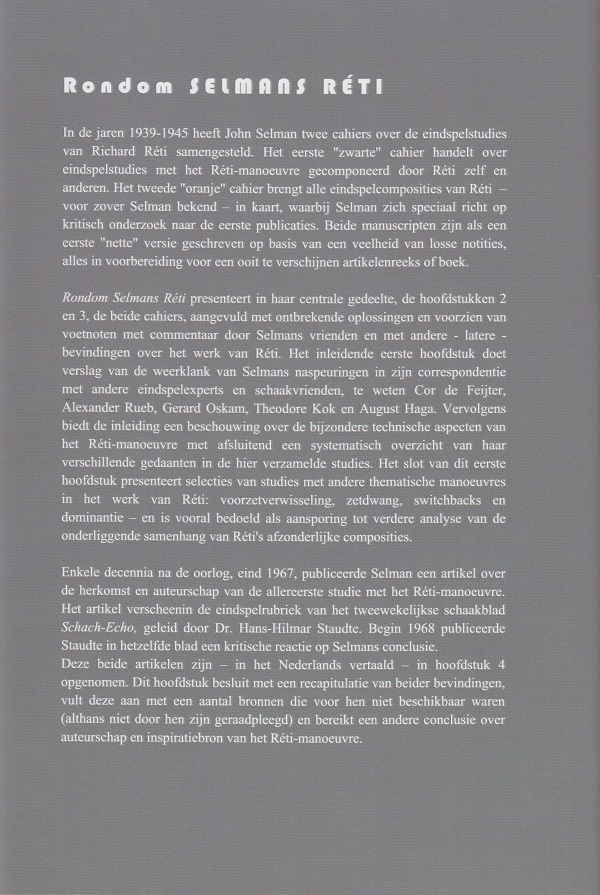 Mr Grondijs informs us:
'The book, which is mainly in Dutch, features two manuscripts by John Selman written during the Second World War, followed by a discussion of the true origins and copyright of the manoeuvre in Réti's most famous endgame study.

The illustration on page 241 is its very first publication, an anonymous appearance in the endgame column conducted by Albert Becker on page 18 of the Deutsch-Österreichische TagesZeitung of 11 September 1921: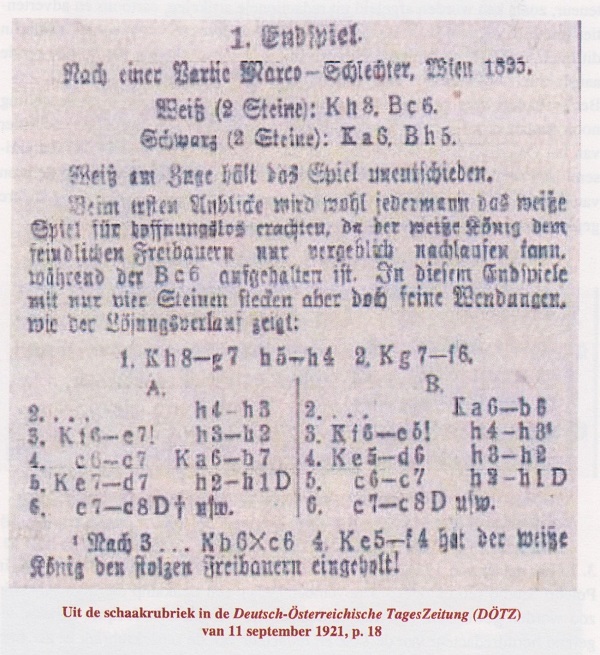 Page 247 of my book shows the endgame's first publication by Réti himself, with the black pawn on h6 (not h5), and with Black to move, in Réti's own column in the Ostrauer Morgenzeitung und Handelsblatt, 4 December 1921: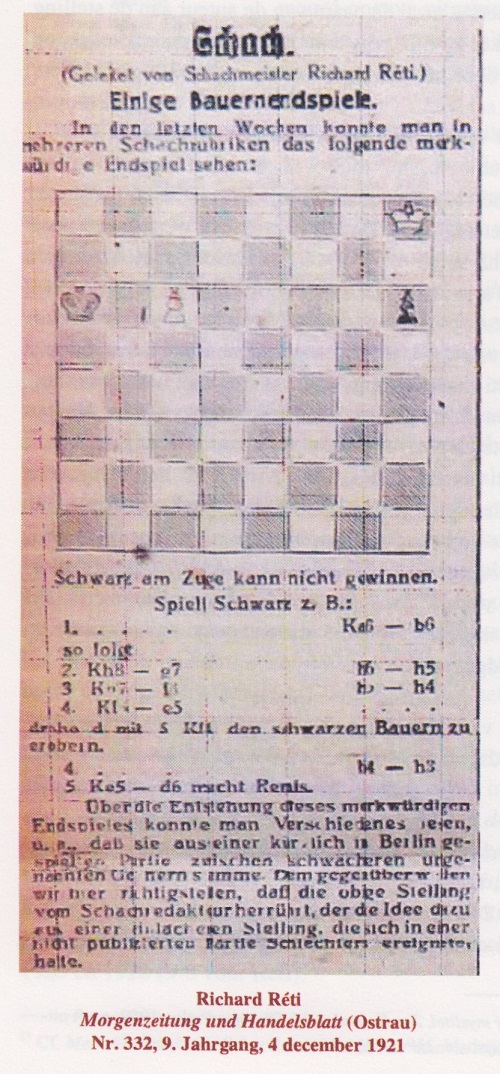 Réti never published any other form of the study, but the "Becker version" soon became the one customarily reprinted as Reti's composition.'
---
10676. The most remarkable tactical conception
'The combination, or rather series of combinations, in this game, is in my opinion the most remarkable tactical conception in chess history.'
That observation by Reuben Fine concerns Alekhine v Böök, Margate, 1938 and comes from page 531 of the November 1938 BCM, in a theoretical article on the Queen's Gambit Accepted. Below is the relevant passage, after discussion of the moves 1 d4 d5 2 c4 dxc4 3 Nf3 Nf6 4 e3 e6 5 Bxc4 c5 6 O-O a6 7 Qe2: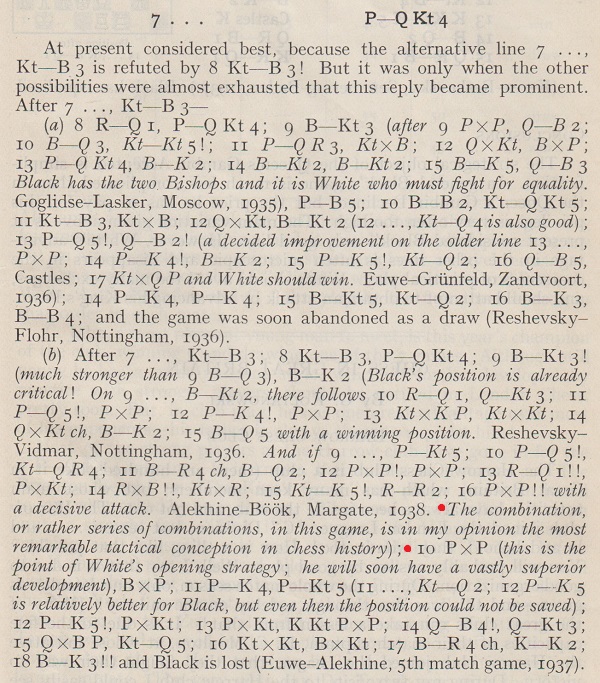 ---
10677. Fischer and the big red book
From Sean Robinson (Tacoma, WA, USA):
'Which chess books did Fischer take to Reykjavik in 1972 and what is known about the differences between the so-called "Big Red Book" (C.N.s 8962 and 9167) and the "dossier" of Spassky's games compiled by Bob Wade?'
Our correspondent has drawn together these quotes and references:
'It is no accident that this volume, along with the others, was ordered by Bobby Fischer for his struggle with Spassky in the 1972 world championship match.'
Source: pages 157-158 of Great Chess Books of the Twentieth Century in English by Alex Dunne (Jefferson, 2005), concerning Yuri Averbakh's Bishop vs. Knight Endings and other volumes in the series. On page 123 Dunne mentioned generally, without referring to the Reykjavik match, that Fischer 'brought the latest Chess Informant with him to his tournaments and his matches'.
'After Fischer went to Iceland, [Ken] Smith travelled to Reykjavik with yet more literature.'
Source: page 114 of Bobby Fischer Goes to War by David Edmonds and John Eidinow (London, 2004). The text is on page 131 of the New York, 2004 edition.

'Fischer's other aide was a kindly, accommodating, New Zealand-born international master, Bob Wade, a resident of south London and the owner of a vast chess library. He had a more specific task: at Ed Edmondson's request, he had sent Fischer copies of all the games he could find played first by Taimanov, then by Larsen, then, at the Candidates final stage, by Petrosian. Now Edmondson gave him the same brief for the world championship.

With infinite pains, Wade researched and compiled all of Spassky's published games; some were well known, while others were located in obscure journals. The folder ended up with over a thousand pages covering over a thousand games. He dispatched it to Fischer via Edmondson, who had it bound in red velvet. Fortunately, it reached its destination, for the work had been done by hand and there was no other copy.

... For over 30 years, Wade has kept the letter that came back from Grossinger's on receipt of his meticulously prepared material. There was not a word of thanks. Instead, he was greeted by a torrent of abuse for failing to abide by Fischer's preferred method of displaying the moves. Wade had written them across the page rather than down. "Can't you follow even the simplest instructions?" He was rebuked for having "cut corners". There was nothing for it but for Wade painstakingly to copy out each move again, working almost from scratch ...

For Fischer, this dossier was to be his constant companion until July 1972. At Grossinger's, he would take his meals in the dining room accompanied only by the dossier. If he ventured out, he would take it with him. ... For the rest of the time, he was in his hotel room, absorbing the contents of the red file ...'
Source: the above-mentioned book by Edmonds and Eidinow, pages 114-116. The wording was slightly different on pages 131-132 of the New York, 2004 edition.
'Bound in red velvet, the big book contains the chess games of Boris Spassky …'
Source: page 25 of the New York Times, 1 April 1972 (C.N. 8962).
'In his [Fischer's] hand were some chess magazines and a little red book of Spassky's games.'
Source: page 109 of Bobby Fischer vs. the Rest of the World by Brad Darrach (New York, 1974).
'A British player, Robert Wade, supplied Bobby with a detailed analysis of Spassky's openings in two loose-leaf books, one marked, "Spassky: White'' and the other "Spassky: Black''.'
Source: page 176 of Endgame by Frank Brady (New York, 2011).
Mr Robinson comments:
'I note the apparent conflations of the red Wildhagen book and the Wade dossier. The New York Times story and the accounts from Edmonds and Eidinow refer to "red velvet" binding. Brady describes Wade's dossier as a two-volume set on openings; Edmonds and Eidinow refer to a single bound volume of games.'
---
10678. A check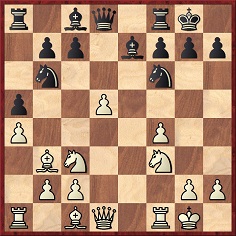 Black to move
The above position arose after 11 a4 in Keres v Lilienthal, USSR Absolute Championship, Moscow, 27 April 1941. As shown in C.N. 8353, 11...Bc5+ received this remark from Keres in his annotations on pages 207-208 of the November 1941 Chess Review:
'What does this check produce? If Black meant to develop his bishop at KB4 he ought to do it immediately; 11...B-QKt5 was, however, preferable, in order to obtain counterplay.'
A briefer criticism of 11...Bc5+, on page 81 of Chess Marches On! by Reuben Fine (New York, 1945), is what passes in the chess world for a dictum/maxim/witticism:
'Evidently forgetting that nobody ever died of a check.'
---
10679. Ipsomania
'The members of chess clubs everywhere are notorious for the possession of an aggregate conceit which far exceeds that of any other class of men known to civilization.'
That remark by Robert John Buckley comes from an article, 'A Study in Conceit', in the Birmingham Weekly Mercury which was notable for including the words ipsomania, ipsomaniac and ipsomaniacy. The article was reproduced on pages 151-152 of the September 1901 American Chess World:
An abridged version was published on page 591 of the Literary Digest, 9 November 1901:

---
10680. Sir George Thomas
Alper Efe Ataman (Izmir, Turkey) asks for information about Sir George Thomas' early connection with Turkey.
The entry in Jeremy Gaige's unpublished 1994 edition of Chess Personalia was slightly longer than the one in the 1987 McFarland book: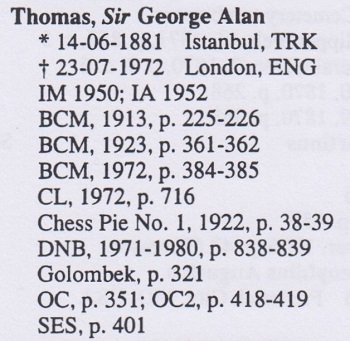 The above-mentioned BCM articles in 1913 and 1923 and the 1922 Chess Pie feature made no reference to his place of birth. Nor did the articles published in the BCM in 1920 (C.N. 9844) and Chess Review in 1935 (C.N.s 7088 and 9848).
The entries on Thomas in the Horton and Le Lionnais/Maget chess reference works (published in 1959 and 1967/1974 respectively) gave London as his place of birth, whereas the entry in Sunnucks' encyclopaedia (first published in 1970) had the following:

That begs comparison with an article in CHESS entitled 'In Memory of Sir George Thomas' (December 1972 issue, page 70):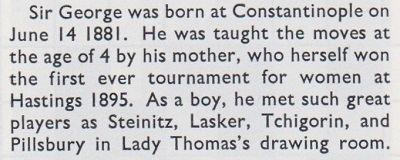 The obituary on pages 384-385 of the October 1972 BCM, by W. Ritson Morry, asserted unimpressively that Thomas was born in Constantinople on 14 June 1881, 'the year of Zukertort's memorable victory in the great London Tournament'.
Published in 1971, Chicco and Porreca's Dizionario enciclopedico degli scacchi had been more specific, giving Thomas' birth-place as Therapia (Tarabya), a district of Constantinople/Istanbul and a centre of British administration in Turkey. The information is thus consistent with the statement in the Oxford Dictionary of National Biography that Thomas 'was born in the British consulate in Constantinople'.
Page 362 of the Hastings, 1895 tournament book recorded concerning Lady Thomas:
'She lived for some years with her husband, Sir Geo. Thomas, Bart., at Constantinople, but now resides in this country, and is sometimes to be seen at the Ladies Chess Club, London.'

C.N. 5690 gave some extracts from an article about her in Woman's Life, 18 January 1896, pages 255-256. Below is the full text: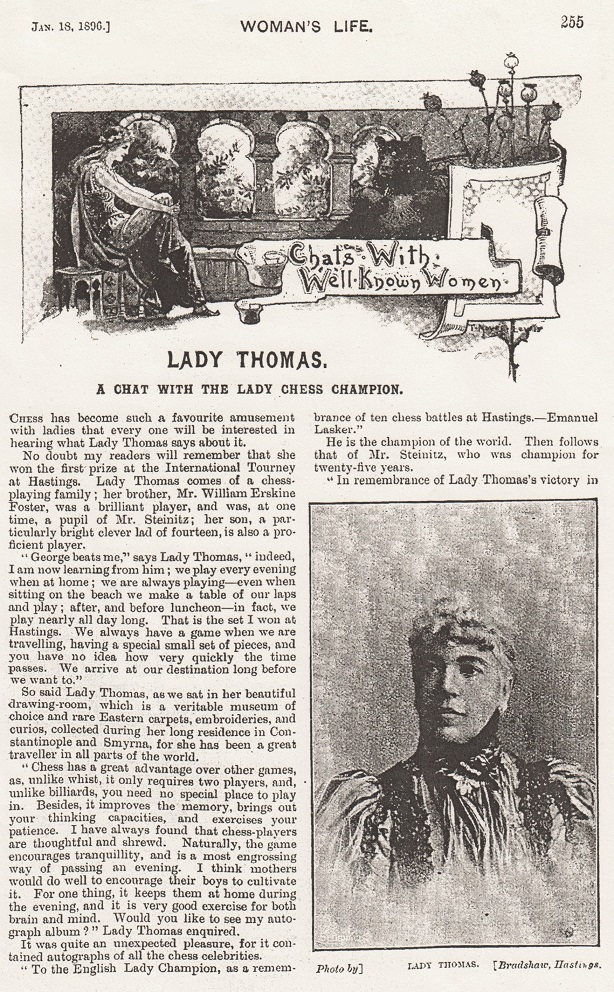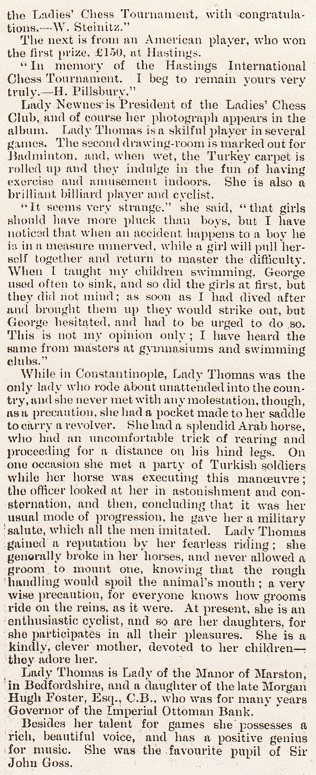 The entry for Sir George Sidney Meade Thomas on page 152 of volume two of John Venn's Alumni Cantabrigienses:

Lastly for now, a cutting from page 4 of the Cambridge Daily News, 6 March 1918: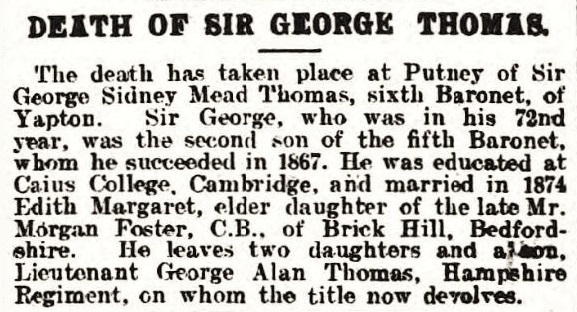 ---
10681. A Reshevsky column
Richard Reich (Fitchburg, WI, USA) has shown us some samples from his set of about 20 undated chess columns by Samuel Reshevsky in the Jewish Press.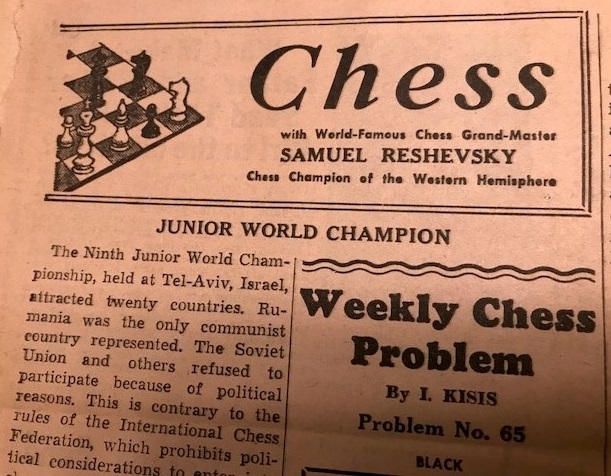 The above report is on a tournament held in 1967 (in Jerusalem, and not Tel Aviv).
A cutting from later in the run (with the moves 8 Q-K2 N-N3 obscured by the fold):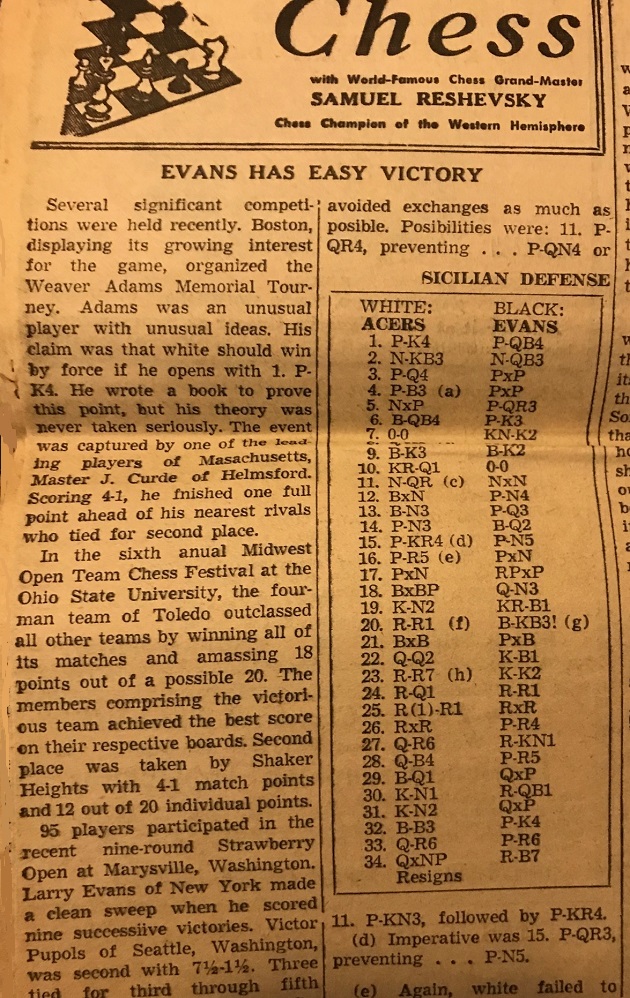 Our correspondent asks for further information about the series. He comments too that the Jewish Press was mentioned in an article about Reshevsky by Saul Jay Singer (whose penultimate paragraph states that Reshevsky had a meeting with Fischer in Los Angeles in 1984).
We add an advertisement from page 305 of the October 1966 Chess Review:

---
10682. Fischer and the big red book (C.N.s 8962, 9167 & 10677)
Frank Brady (New York, NY, USA) writes:
'As far as I know, the red Weltgeschichte collection of Spassky's games and Wade's compilation were the main sources of Fischer's study in preparation for the 1972 world championship match. I examined the two loose-leaf binders prepared by Wade ("Spassky: White'' and "Spassky: Black'') in 2009, prior to the sale of Fischer memorabilia at Bonhams auction house in New York. The covers were black, not red.'
---
10683. Shakespeare and chess
From Howard Staunton's edition of the complete works of Shakespeare (volume three, page 43) comes the reference to chess in Act V Scene I of The Tempest: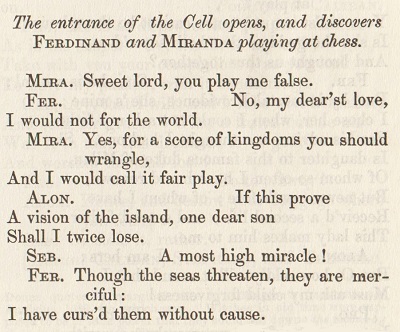 The comments below are taken from page 5 of the October 1907 Chess Amateur, in the 'Questions and Answers' column conducted by H.G. Bockett-Pugh: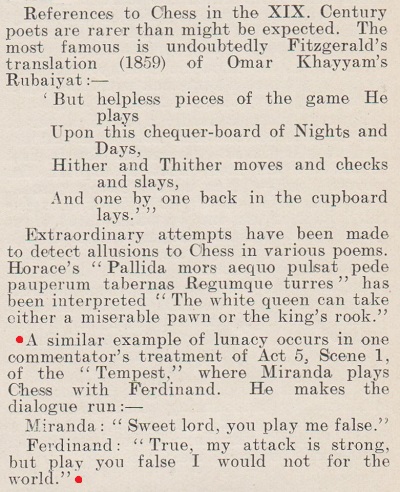 ---
10684. Steinitz on Horwitz
C.N. 1075 (see page 241 of Chess Explorations and Steinitz Quotes) reproduced some affectionate remarks by Steinitz about Bernhard Horwitz from page 301 of the October 1885 International Chess Magazine. A further comment by the world champion was on page 366 of the December 1888 issue:
'... probably the most gentle and good-natured chess master that has ever graced our Royal pastime.'
---
Copyright: Edward Winter. All rights reserved.